Globally, the low-cost model has worked when you 'bombard' one sector with several flights and frequencies, notes Anjuli Bhargava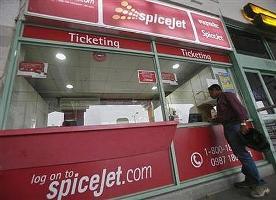 Even as I write this column, the fate of low-cost airline SpiceJet hangs in the balance.
Investors continued to perform due diligence on the carrier to assess whether it makes sense to invest or not.
Newspaper reports claimed that several pilots had resigned and the airline was looking to lay off more employees.
As more details of how things went wrong in the past two years come in, the SpiceJet story provides a few lessons on what not to do when running a low-cost airline in India.
The first few are the more macro mistakes made; the last few accentuated the problems once the trouble began.
One, don't spread yourself too thin. Globally, the low-cost model has worked when you 'bombard' one sector with several flights and frequencies.
The idea is that when a passenger looks at flying to a particular destination, the most obvious choice is the one you offer.
With, say, 10-15 flights through the day between the two routes, he is almost certain to find one that suits him.
SpiceJet had instead, at some point, spread itself very thin, flying to over 50 destinations with its 57 aircraft.
Two, let there be some consistency in your network.
Do your homework before introducing a new route.
Not only was SpiceJet spreading itself thin, it also introduced and withdrew flights with unerring regularity.
New destinations would be announced and withdrawn within weeks of introduction -- even before they got a real chance to break even.
In contrast, IndiGo has, since launch, only withdrawn two flights on its domestic network.
Introducing a second aircraft in your fleet as a low-cost carrier is always a dangerous path to tread. Globally, this has been proved time and again.
You may manage this if you spin it off, but it rarely works under the same umbrella. Besides other issues, a second aircraft in your fleet usually pushes up the cost.
In SpiceJet's case, the introduction of the Bombardier proved too costly a gamble.
First, it chose the more expensive Bombardier over the ATR.
Then, the contract and maintenance agreement it entered into with Bombardier was not to its advantage.
And third, it was not able to keep the aircraft utilisation up to the level at which it made sense to buy a more expensive plane.
Only if the aircraft was utilised for a certain number of hours could its higher cost be justified.
This never happened.
A person involved in the due diligence, who I spoke to, was clear that if new investors do eventually come in, the Bombardier fleet will either be spun off or sold.
Now, once the airline found itself in trouble, it made another set of mistakes that ought to have been avoided.
No matter how deep the troubles run, you need to have some kind of restraint on the kind of discounts and fare cuts you offer.
If a large proportion of your inventory has been sold off in a bid to raise cash -- and this is something almost all the low-cost airlines indulge in time and again -- there is no way you can make up the difference from the rest of the seats and break even.
I sat and did the economics on a Delhi-Mumbai flight with the chief commercial officer of one of the large airlines.
There is almost no way you can break even on an 180-seat airplane if you sell half your inventory at throwaway prices.
It is better to take a hit on load factors but keep your head above water.
Just filling the airplane will get you nowhere. In fact, the more you fly, the more money you will end up losing.
Also remember the nature of the business you are in. Airlines the world over operate on wafer-thin margins.
This is true of even the full-service or legacy carriers. So, offer incentives that you can afford.
At the height of its troubles and desperate to mop up cash to fly the next day, SpiceJet was offering ridiculously high deposit incentives to travel agents and online portals -- incentives it could ill afford.
This is a dangerous practice almost all Indian low-cost airlines indulge in as and when they find themselves short of cash.
Last but not least, keep your salaries and pay packages in line with what the industry is offering.
SpiceJet has been offering salaries that are substantially higher than what its bigger rival IndiGo is doing at similar management positions.
I have no doubt that these details -- which a former chief financial officer of the airline has shared with me -- will be available sooner or later.
The company is publicly listed and is in any case headed for a change in management.
So just how unsustainable the compensation levels in the airline have been will be evident to everyone in due course.