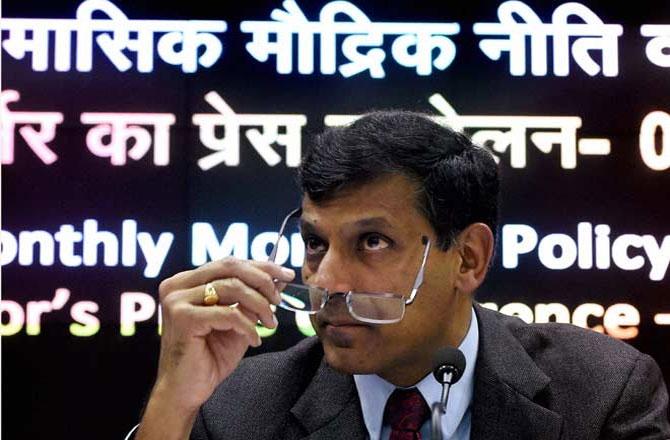 Whatever be the government's decision, it is time everybody showed greater caution while expressing views on whether Mr Rajan should get a second term.
An unnecessary controversy has been generated in the traditional and social media over Reserve Bank of India Governor Raghuram Rajan's possible second term.
Such ringing endorsement of a central banker -- including online petitions and supportive statements from sundry Mumbai industrialists, Mohamed El-Erian, the influential chief economic advisor at Allianz, and Luigi Zingales, Mr Rajan's University of Chicago colleague and co-author -- is unprecedented.
No doubt Mr Rajan's many supporters deemed it vital to defend his record in the light of gratuitous attacks by Subramanian Swamy, the Bharatiya Janata Party MP.
Mr Swamy has written letters to the Prime Minister's Office asking for Mr Rajan's services to be terminated.
His six-point conspiracy theory suggests, among other things, that Mr Rajan is allegedly playing to (unspecified) international financial interests by keeping interest rates high, and is 'mentally not fully Indian' (yet another reference to his Green Card-holder status).
Such baseless accusations deserve to be ignored and Mr Rajan's credentials and track record as RBI governor are strong enough to withstand comments from a critic who is considered maverick even by his well-wishers.
In spite of that, however, such suo motu endorsement of Mr Rajan is hardly helpful just as the government is in the midst of deciding whether to extend the his term, which ends in September.
No government appreciates being publicly importuned.
Still less is it likely to appreciate innuendos, such as groundless statements by Mr Zingales that Mr Rajan is being attacked for fighting inefficiency in the banking sector and taking on crony capitalists.
At the same time, neither the government nor the central bank is doing much to tamp down the controversy.
Though Prime Minister Narendra Modi told The Wall Street Journal that the decision was an administrative one that would be taken at an appropriate time, an avoidable controversy has been created with no clarity emerging on whether the government will activate a year-old search committee to shortlist the choices or continue with the established practice of leaving the decision to the prime minister and finance minister.
An early decision, following the best practice followed in most developed countries, would have certainly smoothed the uncertainty for financial markets.
That said, Mr Rajan's own conduct also has come under scrutiny.
As a public servant, and despite his rock-star status, it does not behave him to respond to questions on the prospects of a second term or his purported lack of interest in one.
Through his stint, he has also made public criticisms of government-related social and economic policy.
In October last year, he spoke out against intolerance, a not-so-oblique reference to the spate of Hindutva-influenced violence against Muslims and Christians, and in December he raised doubts about his prime minister's pet Make in India policy.
Such statements would have been unexceptionable, even praiseworthy, for a private citizen, but a holder of public office should have shown more restraint.
Neither the US Fed's Ben Bernanke nor Bank of England's Merv King was known to make public comments on issues outside their purview.
More seriously, damage from this controversy may have been done to the office of the central banker and the institution, undermining its status as an independent arbiter of monetary policy at a critical juncture in the global financial system.
Whatever be the government's decision, it is time everybody showed greater restraint while expressing views on whether Mr Rajan should get a second term.
Image: RBI Governor Raghuram Rajan. Photograph: Reuters