The real lesson of the Budget session is that Modi has the tools and the power to conduct big-bang reform if he wants -- but he doesn't want to, notes Mihir S Sharma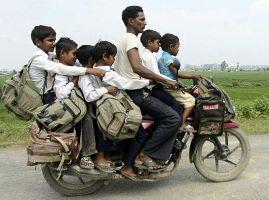 Incrementalism is in.
With its accustomed intellectual integrity, much of the policy world has fallen in line behind the new consensus that Prime Minister Narendra Modi -- the most popular democratically elected leader in the history of the world -- has neither the mandate nor the political capital to undertake large-scale economic reform.
He really really wants to, we are told, but that pesky opposition just won't let him.
What was Ambedkar thinking, putting in a Rajya Sabha?
In any case, incrementalism is the only way to move forward in a pluralistic democracy; we have only ever reformed from crisis; etc, etc.
There are other variants of this argument. Here is one: that incremental changes are actually better than bigger, more painful changes to the economy.
So allowing the states to reform labour law is 'better' than having the Centre reform labour law.
This would be more believable if anyone at all had claimed it was a reasonable and coherent strategy for New Delhi before the government blundered into it, once its hand was forced by Vasundhara Raje Scindia in Rajasthan.
It would be even more believable if it made sense: if you want states to decide, then by all means let them do so by reforming restrictive labour law at the central level, which would still allow individual states the complete freedom to replicate the central law if they so desired.
And it would be yet more believable if it looked like Mr Modi himself believed in doing 'states-first' reform -- if he, for example, was making the case for reform measures to the chief ministers of his party, which he very notably has not.
It turns out that almost every other Bharatiya Janata Party chief minister was more reformist than the one who became prime minister.
But even if you rightly dismiss the incrementalism-is-better argument, and believe that the prime minister is reformist but has his hands tied by the opposition, you have to do so in the teeth of the evidence of the Budget session.
For here is what happened in the first part of that session: five ordinances were confirmed by Parliament, after some minor back-and-forth with a generally cooperative opposition.
Some of these five -- such as the insurance law, long pending, and the natural resources auction law, ditto -- are major reforms, we are told.
Wait: so major reform can indeed be passed, with a bit of bargaining? Hmm.
Ah, but look at the land acquisition ordinance.
This has been stalled, with the opposition refusing to let it pass.
But wait: the lesson from this is not that politically difficult reform cannot happen.
The lesson is exactly the opposite.
The lesson is that Mr Modi does, in fact, have the stomach for a politically difficult fight when it comes to certain legal changes!
It is not the case that he feels hamstrung by the opposition, and so conducts no reform.
It is merely that he believes the land acquisition amendment is the sort of legal change we need, not reforming labour law or any of the other things on economists' wish lists.
I don't want to minimise the talismanic effect of a land acquisition amendment.
It is true that, to my mind, the amendment as it stands is morally grotesque: no liberal country should write consent out of a land law completely.
But as and when the land amendment is passed, it will nevertheless signal a willingness to listen to corporate interests, and to cut down the time it takes to bring investment to fruition.
This is likely to help the investment cycle take that long-awaited upturn.
But it also is politically puzzling.
Mr Modi wasted an entire Budget because he was mortally afraid of being labelled as pro-corporate and anti-farmer -- but will push through a law that will allow the opposition to do precisely that?
One can only assume he thinks that the no-consent rule will be politically popular.
He is smarter politically than pretty much everyone, so he might be right. Or he might be blinded by his experience handing out land to all and sundry without political consequences in Gujarat.
That is a state, after all, with an atypical experience of land consolidation (and coastal agriculture that struggles with salinity).
Regardless, it is clear that with the land law Mr Modi wants to stand up for what he thinks is necessary.
He has made the government's case to farmers, using state radio.
He is taking a tough line on it with the opposition, saying they are 'liars'.
He has used his skills as a politician and his position as prime minister to make an argument to those affected.
This is not done often when it comes to economic policy.
In fact, these are precisely the skills and determination needed to make big-bang reform happen!
So if Mr Modi is happily doing it for a flawed land amendment, why not for real economic reform?
This government will in a few short weeks have been in power for a year.
It is time to be a little more reasonable and rational.
Finance Minister Arun Jaitley has, in public and in private, preached patience.
But patience must not come at the expense of common sense.
After all, if the ease of doing business was indeed a priority, then surely the government would be working on new laws?
It would not just seek to fix labour law, but also the various other antiquated regulations that hold back India's manufacturing sector.
It would seek to ease the mobility of capital, by minimising banks' compulsory holding of government borrowing, and by framing new ways for capital to enter and exit businesses.
It would work on creating a flexible market for land free of end-use restrictions, instead of promising to illiberally use state power to benefit companies.
And one year on, these laws would already be in the pipeline.
But they aren't.
No work is happening on such changes in the ministries.
If the government hasn't started work on drafting them -- with the possible exception of the bankruptcy law -- it is because its priorities lie elsewhere.
Remember, even the 'big reforms' of the ordinances were only of two kinds.
They were either pending from the last government, in the case of insurance.
Or they were forced on the government -- in the case of auctions -- by the Supreme Court.
When the Supreme Court cancelled coal mine allocations, the government could hardly avoid holding auctions -- Section 11A of the Mines and Minerals (Development and Regulation) Act, providing for competitive bidding, had become law in 2010.
The ordinances were merely the minimum necessary to move the sector along after the Supreme Court pointed out contradictions in existing law.
In other words, none of this was economic reform born of this government.
Yet here, in the Budget session, we have evidence for the possibility that many economic-policy measures can be passed with the help of the opposition, and that the prime minister is willing to make the case directly to the people for the reform measures that are tougher to pass.
If, in spite of that, no real reform is happening, it is because the prime minister does not want to conduct it.
No other reason.
So please adjust your expectations and claims accordingly. People cannot be fooled forever.
Image: A man rides a motorcycle carrying six children on their way back home from school at Greater Noida in the northern Indian state of Uttar Pradesh. Photograph: Parivartan Sharma/Reuters