There is a vast grey area between a bill that promises to ensure that no one goes hungry and the political economy of producing food, writes Rajni Bakshi.

With the approval of the National Food Security Bill, by the Cabinet on Tuesday, a long and heated dispute may seem to be nearing a conclusion. But it is much more likely that the story of genuine food security for every last Indian has just taken a precarious twist.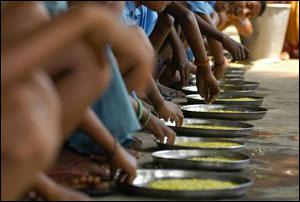 Interestingly enough on the same day that the Cabinet gave its green signal to the Bill, thousands of farmers began a protest dharna at Jantar Mantar - an action that got relatively little media attention. This mobilisation by the Kisan Khet Mazdoor Mahapanchayat has exerted sufficient pressure to get the Union government's attention. On the evening of 20th March a delegation of 19 farmers met with six Central government ministers including Sharad Pawar (Agriculture), Jairam Ramesh (Rural Development) and K V Thomas (Food and Consumer Affairs).
There is a vast grey area between a bill that promises to ensure that no one goes hungry and the political economy of producing food.
Given the staggering scale of under-nourishment in India, in principle, a law ensuring food security seems like a no-brainer. The dispute has been about how this should be done and who should be eligible to receive these benefits.
Much of the sound and fury generated by the extended public debate around this legislation has been about the financial burden this law will place on all future governments. In a statement issued after the Cabinet's approval the Union Food Minister K. V. Thomas said that the extra burden to the exchequer will be about Rs 20,000 crore (Rs 200 billion) more than the current level.
How large a portion of the population should be made claimants for subsidised food has been the other point of bitter dispute. The bill now going up for Parliament's approval will provide subsidized food to 67 per cent of Indians.
These big points of quarrel have tended to push far more fundamental concerns relatively into the background. What if this legislation helps to turn a nation of farmers into a nation of perpetual dole-receivers?
What kind of reforms in agriculture would ensure a combination of food production and livelihood security making subsidies unnecessary?
Advocates of the Right to Food campaign have argued that providing this wide spread food subsidy is an essential base upon which other, more structural, reforms in agriculture and livelihoods can be carried out.
If the passage of this legislation is not in actuality followed up by deep reforms that eventually raise the overwhelming majority of Indians to an economic level that does not require subsidies - the future could be grim.

The Kisan Khet Mazdoor Mahapanchayat is demanding, among other things, an assured income for all farm households and protection for the land rights of farming communities.

This protest has been organised by the Indian Coordination Committee of Farmers' Movements, which brings together the National Alliance of People's Movements, led by Medha Patkar, and various farmers' unions. One of their key demands is the passage of a Farmers' Income Guarantee Act.

A statement issued by the organizers of this protest on the first day called for comprehensive agrarian reforms "not cosmetic allocations". It went on to add: "The focus on urbanisation, industrialisation and infrastructure will not be able to absorb the large work force which is currently engaged in agrarian sector. They will be worse off, than what they are today. With a huge population base, the push for contract and commercial farming, the food security and employment will be jeopardised."

Increased procurement of food grains by the government, to fulfill its obligations under the in-coming Food Security Act will not help farmer unless procurement prices improve. "The Price Support Scheme and Market Intervention Scheme are given lip service, but they were used minimally in just 5 states, that too in just 1 or 2 crops in each state. It is necessary to have a Price Guarantee policy and a Farmers' Income Commission to make the incomes of farming families as the central concern of the agricultural policy" says the statement.

The protestors are also asking for a separate Agriculture Budget to be presented on lines of Railway Budget so that the issues of this sector can be comprehensively addressed. Accompanying demands include - "No to free trade, No FDI In retail, No commodity and futures trading in agriculture..."

This list of demands indicates that the gathering at Jantar Mantar is made up of an assortment of perspectives. Taken together these varied perspectives may neither by coherent nor conducive to actually achieving the basic objective on which there is agreement - a vibrant and equitable economy from the smallest farm to the large scale retailer in metros.

And this is why adoption of the Food Security Bill may led us down a precarious and slippery slope. Fighting for and getting a safety net of this kind, though no easy task, is still a relatively simple matter compared to the complex challenge of solving the crisis of agriculture and livelihoods. It is the latter that will actually shape the Indian economy and society of the future.

Under pressure from the protesters at Jantar Mantar, the government has responded by promising to set up several committees to review the farmers' demands. In addition, Jairam Ramesh has promised to meet at noon today with representatives of the Mahapanchayat to consider their objections to the draft of the Land Acquisition Bill.

"We will see how this process unfolds from now on. The government representatives did express the interest in looking into all issues as soon as possible, and within a month ideally. If the government goes back on what was initiated today, we will take a decision in the Kisan Kumbh about our next action plan, in the upcoming meeting in Haridwar", Rakesh Tikait, national spokesperson of the Bharatiya Kisan Union was reported as saying after the meeting with the Union Ministers.

All the players in this situation are acutely aware of the fault lines of conflict. Proponents of aggressive expansion of GMOs and other forms of agriculture driven by multi-national corporations are at war with advocates of a more holistic agriculture that empower both farmers and local knowledge systems.

These are not issues that can be easily resolved. True, many dedicated activists and experts – including those in the growing 'social enterprise' sector - are engaged in grappling with these challenge. But their energies are scattered and, like the current farmers' protest at Jantar Mantar, not always very coherent.

If our objective as a nation is to provide bare minimum food for the bulk of our population to just survive and remain on dole, then we can applaud the Food Security Bill. But if we seek to ensure a thriving population that has proper nutrition and livelihoods with dignity then the Food Security Bill needs to be seen not as a solution but as a stop-gap measure.
Photograph: Jayanta Dey/Reuters