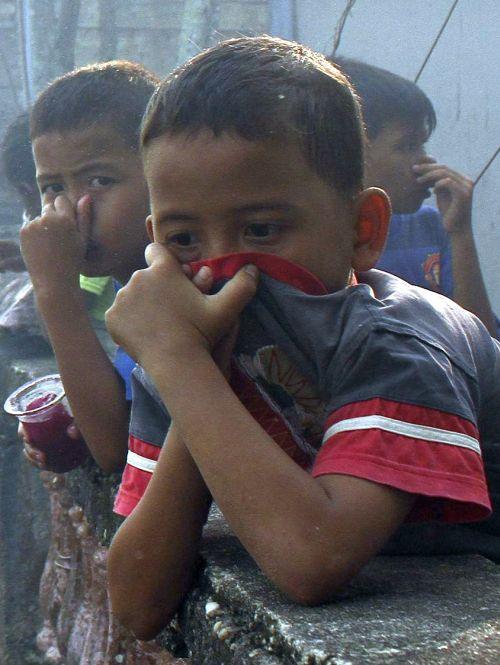 The ranking of the world's most polluted cities issued by the World Health Organisation in 2014 showed that 13 of the 20 most polluted towns were in India.
Latest international research studies have shown that over 5.5 million people die prematurely every year due to air pollution.
Half of these are in India and China, validating what earlier country-specific studies repeatedly hinted at.
These reports, presented at the annual meeting of the American Association for the Advancement of Science at Washington DC in the past fortnight, have said pollution is the fourth highest risk factor for deaths now.
What is worse, the death count is projected to swell in the coming decades even if pollution is contained at the present level.
This is because the population in most countries is ageing, and older people are more susceptible to illnesses caused by polluted air.
India is, indeed, particularly vulnerable to this menace as the level of air pollution is dreadfully high in most of its towns.
The ranking of the world's most polluted cities issued by the World Health Organisation in 2014 showed that 13 of the 20 most polluted towns were in India.
Delhi was at the top, with the next three positions also going to the Indian towns of Patna, Gwalior and Raipur, in that order.
Many of the Indian cities routinely record hazardous particulate matter content in their air at around 300 micrograms per cubic metre -- a full 12 times higher than the outer safety limit of 25 micrograms set by the WHO.
A committee set up by the health ministry to look into this issue had identified a series of health effects of air pollution, ranging from childhood pneumonia and asthma to cardiovascular diseases (heart attacks and strokes), chronic lung ailments, cancers and low immunity in adults.
Some other Indian studies have indicated that unabated forest degradation has helped pathogens which were earlier restricted to animals to begin infecting humans as well.
Hazards like avian influenza (bird flu) and swine flu are examples of this.
The sources of pollutants in the worst-affected cities like Delhi are many, though vehicular emissions often tend to be singled out.
The other major sources include smoke emanating from burning of fallen leaves and garbage, torching of crop residues in agricultural areas around cities, dust from roads and construction sites, use of diesel-run generators, coal-based power plants, small-scale industries and use of polluting cooking fuels like coal, wood, cow dung and biomass.
Curbing vehicular traffic for limited periods -- as is being done in Delhi by allowing only even or odd numbered cars on roads on alternate days -- does indeed reduce pollution, but only to a limited extent.
Such efforts need to be supplemented with result-oriented measures to check other sources of pollution as well, particularly smoke and dust.
Where vehicular pollution is concerned, the situation can also be ameliorated by improving public transport facilities and encouraging the use of relatively cleaner fuels like compressed natural gas.
The introduction of higher grade fuels conforming to BS-V and BS-VI standards needs to be hastened.
Though the government has advanced the deadline for BS-VI, the advancement has not been enough.
The oil marketing companies and the auto industry need to make fresh investments to churn out such fuels and manufacture vehicles capable of running on them.
Nothing short of an all-out war against pollution will deliver tangible results in mitigating health hazards due to bad air.
The image is used for representational purpose only. Photograph: Reuters