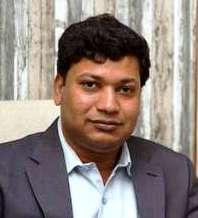 Before he joined Veritas, Mangal was working with brokerage Edelweiss Capital
In the early days of Canada-based Veritas Investment Research Corp's foray into India in 2012, it was Neeraj Monga who, as the lead analyst in India, hogged the limelight, talking to television channels and making dire predictions with his 'sell' reports on stocks of various companies, including Reliance, Kingfisher, DLF and Indiabulls.
Nitin Mangal, his co-author in a couple of these reports, largely remained in the backdrop.
Nobody had seen him, he wasn't talked about in the financial circles and was largely a shadow figure.
Three years on, the tables have turned, and how.
Indore-based Mangal is now the Veritas analyst, while Monga has become the other Veritas analyst.
Ever since his arrest by the Gurgaon police in 2014 following a critical stock report about Indiabulls, Mangal has been the face of Veritas in India.
On Tuesday, he was back in the news after The Wall Street Journal published an article detailing his ordeal in the aftermath of the publication of the report on Indiabulls that led to his arrest.
The Wall Street Journal report also gave a first glimpse of the man himself, publishing his photographs for the first time since the controversy broke out.
Mangal's lawyer told Business Standard that the newspaper got in touch with him after his release from jail on bail in mid-December.
After collecting various details and Mangal's version of the story, the reporter reached Indiabulls for its comment.
For its part, the company moved the Delhi High Court and won an ex-parte injunction in April against the publication of what it called a 'defamatory article'.
However, early this month, the publication and the journalist got the order overturned by the court and published the article.
"I feared for my life," Mangal was quoted as saying in the article.
He also recalled being chained to his bed during the 2000-km 'information gathering' trip the Gurgaon police took him on after Indiabulls complained of criminal intimidation and extortion for co-authoring a report titled Bilking India in August 2012.
It was only the second report Mangal had worked on for Veritas.
Being a chartered accountant, he dug out publicly available information from filings in the stock exchanges and Registrar of Companies, and analysed the financial position of the entities.
In 2012, Monga had told Business Standard that Mangal was in-charge of fact finding and data integrity for Veritas in India.
"Given that he has done his CA from India, I defer to Nitin for his accounting input.
"He is also our man on the ground. Nitin has been integral to our success in India," he had added.
Before he joined Veritas, Mangal was working with brokerage Edelweiss Capital as part of its non-conventional research unit called Analysis Beyond Consensus.
He also briefly worked in the corporate sector with KEC International and ACC and an accounting firm.
However, what has come to define his career are the events of the past three years.
Bogged down by the fight with Indiabulls, Veritas' India venture has since been wound up and Monga has started his own venture.
Mangal's family, that includes his wife, two daughters and his mother, on the other hand, has weathered the storm along with him.
For them, the worst phase came when he had to spend a few weeks in jail in Gurgaon before being released on a bail of Rs 50,000.
Although now free, Mangal's ordeal may be far from over.
He is part of several legal proceedings in India and Canada, and Indiabulls has threatened him with contempt for talking to The Wall Street Journal.
Mangal continues to deny any wrongdoing and says he stands by what he did. Ironically, for Mangal, Indiabulls has become a stock he can't exit.
Image: Nitin Mangal