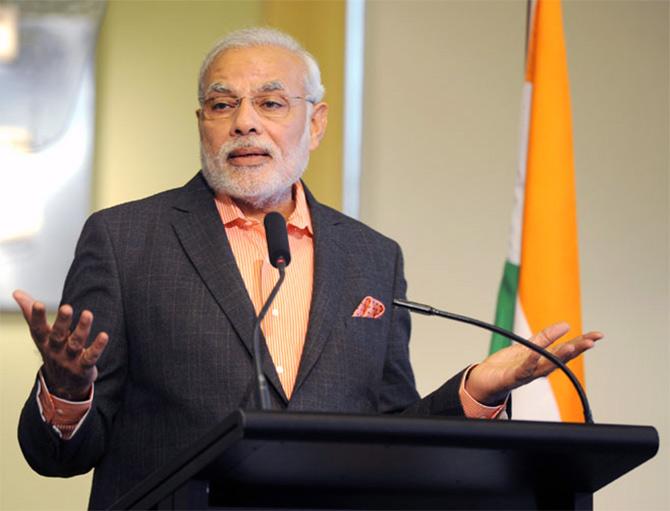 Those who believed that a new golden age for India is round the corner, will have to wait for a long time, rues Debashis Basu
Two weeks from now the Narendra Modi government will complete two years in Delhi.
We will have another occasion to assess the priorities of this government and how it wants to achieve them.
If visible transformation is the goal, it is missing in all things that matter to the people -- actual inflation, delivery of government services and petty corruption.
If gradual transformation is the goal, it is too slow to make a difference in the next three years, just as little has changed in the last two.
Radical decisions can be taken in certain areas like finance, which creates confidence in other areas well, but the government will not take them.
Take a look at these three aspects of governance.
Institution-building: The main agent of good governance is responsive and evolving institutions.
This takes time to build.
Mr Modi's challenges in this regard are huge, especially since all previous governments have corrupted institutional processes by appointing their favourites, not the competent, to key positions.
But what about this government?
From Gajendra Chauhan at the Film and Television Institute of India, to Pahlaj Nihalani at the Censor Board, to K V Chowdary as the chief of the Central Vigilance Commission, to Zafar Sareshwala at Maulana Azad University, to the heads of various cultural entities -- almost all its appointments have been controversial.
It has also let organisations like the Board for Control of Cricket in India, a gravy train of enormous money and power, to function exactly as they had.
A few months ago, the government went through an elaborate charade of picking a successor to U K Sinha, chairman of the Securities & Exchange Board of India, whose tenure was ending in February.
In the end, it gave Mr Sinha a one-year extension.
This is symptomatic of the government's policies: avoid taking decisions, perpetuate mediocrity.
Then, dozens of institutions are headless.
Almost two years after the government announced that it would be fix the public sector banks, several banks have no heads and executive directors.
All it has achieved is creating another government agency to supervise bank appointments!
This new agency cannot, of course, appoint. It can only recommend.
Status quo: In almost every sphere we are witnessing the continuance of status quo, even if it has meant brazen U-turns such as implementing the Aadhaar identity project, the Right to Food Act and the rural employment guarantee scheme, among others.
The status quo extends to the continuance of all social schemes of the Congress under changed labels -- implemented with the fatal conceit that this government, just with a different man at the top, will implement them much better even with the same officials and the same systems.
The status quo is most regrettable in the financial sector, where the government should have been the boldest.
Financial reforms cause less controversy because most opposition politicians and mainstream media are not interested in them.
Instead, financial regulators, public sector banks, revenue departments are functioning exactly as before with the excuse that legacy issues cannot be wished away so easily.
It is symptomatic that Finance Minister Arun Jaitley has been quoted as saying "In a reform path there is never a finishing line, the race never ends."
Well, this may be true but it may also be an excuse for not doing much.
Governance on tiptoe: The overwhelming sense one gets is that, apart from putting its own people in some positions, the government is too scared of rocking the boat and upsetting the "system."
It cannot undo the retrospective amendment because the opposition will label it pro-rich.
It cannot sell public sector units because the unions will oppose it.
It cannot reduce interest rates on provident funds because the employees get upset.
It cannot cut down on useless ministries because what are election victories for, if not for the spoils of office?
It wants to extort money from retirees by taxing retirement corpuses but has to do an about turn when faced with a backlash.
Party sympathisers see these as small missteps without seeing the bigger picture: no clear thought process, and hence no conviction of sticking to many pre-election promises and many post-election measures.
This column is not about non-financial policies but I have yet to find any plausible reasoning for the endless backtracking and pussyfooting while dealing with China and Pakistan.What does all this portend for the market?
Well, market returns are only indirectly linked to good government policies; they are not even tightly linked to economic growth.
Supported by low valuations, even bad government policies can create a bull market (with hell to pay later) as we saw in the mid-90s and again in 2009-12.
The three vital weaknesses of the Modi government will only mean that those who believed that a new golden age for India is round the corner, will have to wait for a long time.
The markets are creatures of economic climate and earnings growth.
This government has no control over the first, preferring to fritter away the extraordinary gains from low oil prices; and it is not really interested in improving the investment climate which may depress the second.
Like the rural folk remain at the mercy of weather gods, we remain at the mercy of the global economic climate.
Pray that commodity prices and oil stay benign.
Image: Prime Minister Narendra Modi. Photograph: Kind courtesy, PIB
Debashis Basu is the editor of www.moneylife.in