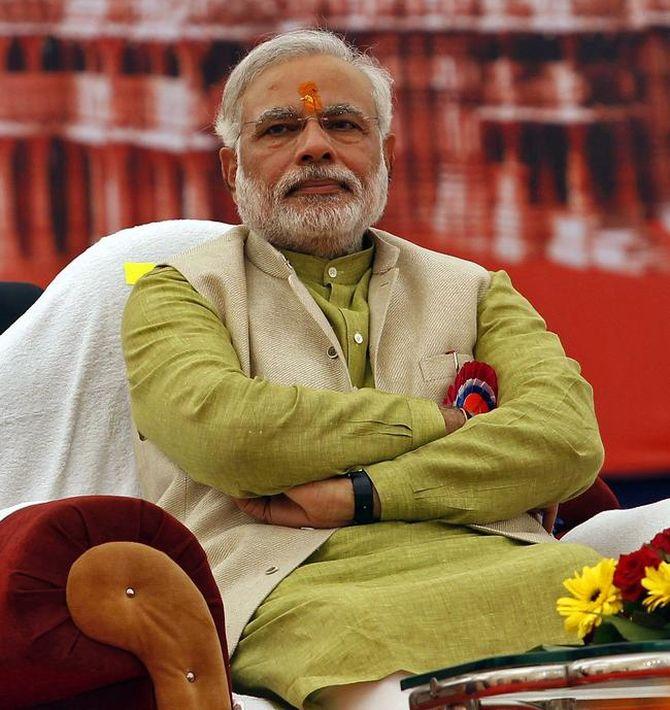 If the Modi government is to keep its promise of change, it must bring in fresh faces, says Devesh Kapur.
When the new prime minister took power he appeared to make it clear that he would empower the bureaucracy, whose mandarins had been particularly dispirited in the last years of the previous government.

In a rare meeting with all the Centre's secretary-level officers, Narendra Modi declared that he would be "accessible to all officers", and they could approach him directly with their ideas and suggestions. The new government has followed up with amendments to the All India Services (Conduct) Rules formulated in 1968, mandating they be "politically neutral", while maintaining high ethical standards.
Taken at face value, these developments are laudable. But empowering the bureaucracy must come with a caveat emptor: be aware who you are empowering. The prime minister must initially play with the bureaucratic deck of cards that he has been dealt with.

Like any deck, it has some aces and some kings and queens. But it also has some jokers and quite a few with low value. But there is a set of even lower-value cards, that is, "trump" cards.

And that trump is loyalty, an attribute that this prime minister values, and with good reason. One question that has been posed is whether he would rather have low-value loyal "trump" cards, or high-value "independent" cards, those with competence?
This, however, is a false dichotomy. There might appear to be a trade-off between loyalty and competence in the short run, but not in the long run. A civil servant's first loyalty should be to the Constitution and the rule of law.

A prime minister who inspires by his vision and rules by example will command deep loyalty from those with integrity and intellect. Loyalty that is earned will always be stronger than a loyalty that is commanded. And when loyalty trumps every other attribute, it will attract only yes-men, not those with competence.
This will require not just culling the senior bureaucracy, but also recruiting new talent at senior levels of government.

A generalist civil service needs to have complementary specialist skills; the growing complexity of India's economy requires people with deep domain knowledge on specific issues. It is, therefore, critical to recruit talent from outside that brings with it new ways of thinking.
If, however, the principal criterion is prior notions of loyalty, this will do little to attract the best talent. The recent appointment of a committee to review the University Grants Commission is a case in point. If this is the best talent this government is capable of recruiting from outside on a matter critical to the youth of the country - and, hence, to the country's very future - the prognosis is unpromising.
Simultaneously, the government needs to go upstream in rebuilding the civil services.
By all accounts, the learning trajectory, energy and idealism of the average civil servant peaks at the joint-secretary level.

After that, a sort of Peter Principle kicks in, as the selection for higher levels of civil service is based more on their performance in their current role rather than their abilities relevant to their higher-level position. I emphasise average because there are undoubted exceptions, but that is exactly the point - they are exceptions.
In part, the problem lies in the empanelment process at the joint-secretary level. This depends exclusively on "annual confidential reports" (ACRs) prepared by their superiors, which leads to a culture of subservience.

The system needs two major changes. One, an external system of appraisal, which could be coordinated by the Union Public Service Commission, in which the ACRs are an input but not exclusively so; and two, "reserving" about a quarter to a third of all positions in the civil service at the joint-secretary level for those from outside the services - whether from the private sector, think tanks or academia.

This would, undoubtedly, be hugely contentious; but, while not favourable to the civil services, it would be good for the country. One might presume that the latter goal should have more weight.
At the joint-secretary level, creating a few broad tracks within the civil service is one way to build domains of expertise at senior levels of government. Some might choose the social sectors (and relevant ministries), others those related to security (internal and external), while still others might choose finance and commerce.

It is important to also create a separate "regulatory" track. Those who opt for this track could become a member of one of the regulators, while foreclosing the option to become secretary in a ministry.

Too many secretaries at the Centre have their eyes (and pockets) set on post-retirement positions in one of the many regulatory institutions that have been set up. This affects both their pre-retirement behaviour, as well as the quality of regulation.
The road from Gandhinagar to Delhi is paved with potholes of limited competence - whether in the party, in the Cabinet, or in the bureaucracy. This is a harsh reality, and if this government is to keep its promise of change, it must bring in fresh faces and new talent. Trust is a two-way street.

If the government brings in people with competence and integrity and trusts them to do the right thing, in most cases that trust will be reciprocated. Is there some risk? Of course, there is.

By definition, anything new is risky. But the risks arising from not doing enough, rapidly and well are much greater. Who the government brings in (and how) will be the best indicator of what lies ahead.
The writer is director of the Centre for the Advanced Study of India at the University of Pennsylvania.