For the first 11 months of this financial year, exports of $284 billion suggest India will fall short of last year's numbers, let alone its target of $340 billion, rues Rahul Jacob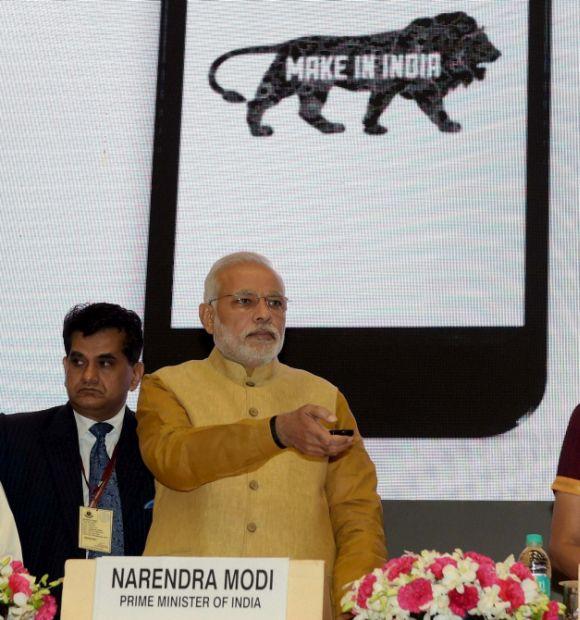 Recent export data is making the government's 'Make in India' push seem more like a flight of fancy.
Merchandise exports from India declined by 11 per cent in January and 15 per cent in February.
For the first 11 months of this financial year, exports of $284 billion suggest India will fall short of last year's numbers, let alone its target of $340 billion.
Contrast this malaise with China's double-digit increases in exports for January and February.
UBS clubbed the two months together to smooth out the anomalies of the Chinese Lunar new year holidays and found exports increased 13 per cent.
The collapse in imports (down 27 per cent) suggests Chinese manufacturers are redoubling their efforts to export.
Exports to the ASEAN were up 38 per cent over the first two months, to the US by 21 per cent.
Even exports to the EU increased by 13 percent.
The Chinese labour force may be growing older and more expensive but companies there are not giving up their huge share of the most labour-intensive sectors.
"Exports of most labour-intensive products accelerated visibly in the first two months of 2015 from Q4 2014, including those of garments, footwear, textiles, suitcases furniture and toys," writes Donna Kwok, an economist with UBS.
The southern province of Guangdong, which is China's exporting powerhouse, suffered a 2.5 per cent decrease in the first nine months of 2014 but still exported $457 bn over that period.
In nine months, a single province in China exported one and a half times what India is likely to export in an entire year.
The myth that India -- 'the youngest nation in the world'-- is poised to take sizeable export market share from China as its working population ages is unravelling.
For years, this has been a staple from the podiums of grand conclaves of sundry boosterish Indian media houses.
India's demographic dividend, which is underpinned by the fantasy that we will convert farmers whose productivity is low even by the standards of parts of Africa and much of Asia into millions of hyper-efficient manufacturing workers, is invariably part of glib presentations of loquacious Congress and Bharatiya Janata Party ministers.
Fifteen years into the 21st century, it is proving to be more fable than fact.
Yes, China's one child policy of the past 30 years means that the increase in China's working age population in this decade of 23 million represents a sharp fall from the 82 million between 2001 and 2010.
But, the continued strong export numbers from China suggest that the productivity of Chinese workers has risen -- McKinsey estimates by 11 per cent a year between 2007 and 2012, according to The Economist.
In addition, the ecosystems of suppliers -- computer parts firms centred around Chongqing, for instance, or mobile phone parts suppliers in southern China who are in turn tied to screen suppliers in Japan and Taiwan -- make it foolhardy to uproot production just because labour costs have risen annually by double-digit levels since 2010.
Then there are the advantages of China's world class ports and six-lane highways which make it seem like a country with First World infrastructure and developing world labour costs, as Arthur Kroeber of Gavekal Dragonomics in Beijing, puts it.
The iPhone 6 is made of countless parts sourced from firms in China (which boasts 349 suppliers) Japan (139) and Taiwan (42) to name a few, according to the product review website Comparecamp.com.
The products range from screens for the phone from Japan Display and Taiwan's Innolux, touch ID sensor and chips from Taiwan Semiconductor Manufacturing Corporation and front and rear cameras from Sony.
The projected revenue of Taiwanese suppliers for the iPhone 6 is $27 bn.
Given this complex supply chain centred in North Asia, it's highly unlikely Apple might one day elect to move some of this production to India.
Two world-beating companies that make labour intensive products are headed by Indians. Neither uses India as a significant export base.
The average suitcase Samsonite CEO Ramesh Tainwala says, has 700 components; it's no surprise most of its production is spread across China.
Samsonite recently opened a plant in Hungary to be closer to its European customers. Ranjan Mahtani of Epic Group, the largest supplier of cotton (non-denim) trousers to the US, has about 25,000 mostly female employees in Bangladesh and none in India.
While working in southern China between 2010 and 2013, I was frequently asked by news editors to track down where the low-cost manufacturing from China was moving.
In many cases, manufacturers just across the border from Hong Kong in Guangdong preferred to introduce robotics rather than shift production overseas.
At Maisto in Dongguan, which makes intricate toy cars for adults, I saw a machine that looked like a rotating silver-coloured, metallic Christmas tree simultaneously spray-painting the chassis of miniature cars.
The work had once required 60 workers; the futuristic machine needed just two. Foxconn, which the hundreds of thousands of workers who assemble iPhones in China, announced a couple of years ago that it plans to have as many robots as workers.
Most of the companies who moved production overseas moved it to southeast Asia, which this year became a large free trade area, or to provinces in China away from its booming coasts with lower labour costs.
On Republic Day, the gargantuan metal lion that is Make in India's mascot slowly made its way from the parade to another site.
It was hard not to notice it had begun to rust.
Before we go down the road of quasi-protectionist industrial policy, better to retire, even ban, the delusional idea that the world's corporations are eager to use India as an export base to replace China.
Image: Prime Minister Narendra Modi at the launch of the Make in India Mission at Vigyan Bhavan in New Delhi on Thursday. Photograph: Manvender Vashist/PTI