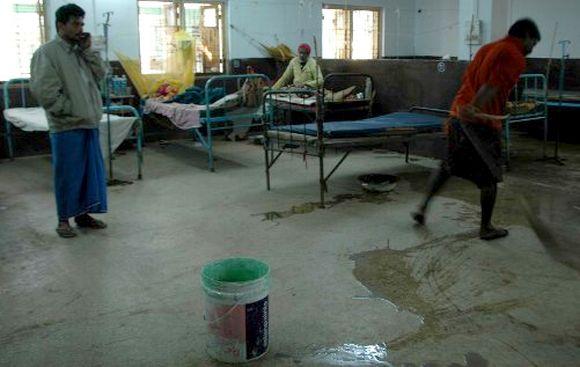 Is pushing more people into the ESIC merely a way of getting around India's broken public health system?
Full details are yet to emerge of the reform of the Employees State Insurance Corporation of India, or ESIC, as indicated by Prime Minister Narendra Modi at a labour conference in New Delhi on Monday.
The question that is being asked is: will reform of the ESIC mean an expansion of its coverage to those hitherto not covered by it?
Earlier media reports suggested that, for example, on-site construction workers would gain access to ESIC benefits.
If so, what will be the contributory system? Will there be a difference in the contributory pattern?
All these are relevant questions. But the deeper issue is this: is pushing more people into the ESIC merely a way of getting around India's broken public health system?
If so, it is the latter that should really be addressed.
Repeated surveys have suggested that paying for medical care is what is most likely to send struggling families below the poverty line.
Even though the private sector has rapidly added capacity to meet demand, India continues to have too few hospital beds.
As of last year, India had 1.3 hospital beds per 1,000 people, well below the internationally suggested minimum.
Worse, many of these will be unaffordable; and the quality of care at public hospitals leaves much to be desired, given the overcapacity.
Meanwhile, private hospitals have built up a reputation for price gouging and excessive billing.
If even the middle class fears hospitalisation, the vast majority of India's population, which lives below the poverty line or just above it, has even better reason to fear the impact of a major injury or illness on their savings or their debt status.
Any decision to throw the ESIC open to more people may be thus sensible.
But the real effort has to be to improve the overall public health system, at minimum cost and maximum speed.
It is far from certain what the government's plan is in that area.
The fear is that it will just rely on technical and digital fixes to enable the slow spread of formal insurance.
This may not be enough, unless it is accompanied by a rapid scale-up of public medical infrastructure, which will serve to keep costs lower and quality higher.
Further, the most effective intervention is not at the level of tertiary medical care -- which is, however most profitable, and where the private-sector investment comes in.
What is needed are more and better local clinics and dispensaries.
Delhi, for example, has twice the number of hospital beds per 1,000 than the country in general -- by 2014 estimates, 2.7 per 1,000 residents.
And 15 more government hospitals are being built, though this effort is taking longer than expected.
But perhaps a far more reasonable intervention is the effort being made by the Delhi government to create 1,000 'mohalla', or neighbourhood clinics, where diagnostic tests can at least be conducted cheaply and locally.
The clinics aim to provide 10 minutes one-on-one with a doctor per patient, a considerable improvement over public hospitals currently -- and will keep medical information on the cloud, so that it can be accessed swiftly by different doctors in different medical centres at different times.
This effort should be carefully watched, and emulated elsewhere if it works.
The image is used for representational purpose only; Photograph: Dipak Chakraborty