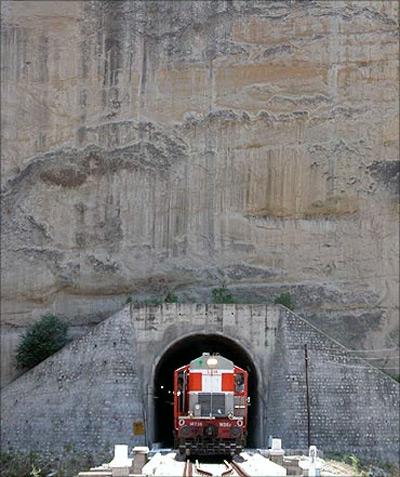 From Kudankulam to the Land Bill, Vinayak Chatterjee takes the Twitter route to capture the infra action of 2013.
1. Kudankulam goes 'critical'. Southern states to receive nuclear power in 15 days @ Rs 3 /unit — happily less than current procurement cost.
2. New Banihal-Srinagar railway in Kashmir so popular with commuters & sightseers, that rlys struggling to cope with ridership. Happy problem!
3. Review of Infra by PMO has zeroed in on Roads sector as the worst performer. Sad that yesterday's star is today's whipping boy.
4. Whilst new Civil Aviation Auth (replacing DGCA) is welcome, roles and responsibilities of CAA, AAI & AERA have to be carefully delineated.
5. Project Monitoring Group in CabSec sets up website to track & address stalled projects. Any developer can log on to 'cabsec.nic.in'.
6. Urban Min to place proposal before EGoM on fresh operator for Delhi Airport Metro & related issue of picking up Rs 2000 cr debt & profitability.
7. Pvt port Mundra overtaking public port Kandla to emerge as India's largest port is the story of market access to pvt sector challenging PSUs.
8. RBI Review shows halfing of new project investments. 2012-13 was Rs 2 lac cr as against Rs 3.8 lac cr in 2010-2011 & Rs 1.91 lac cr in 11-12.
9. On 10th anniversary of Electricity Act 2003, general agreement that its biggest failure is Open Access. Visionary provision remains grounded.
10. After banning Chinese ECBs for power eqmnt imports, Plang Comm asks Power Ministry for report on poor performance of Chinese-supplied plants.
11. Vikram Mehta (Chairman, Brookings India) says Govt broadly got it right in recent gas pricing decision and debunks 'conspiracy theorists'.
12. Incoherent & illogical policies, greed for land, & economic downturn have led to 58 SEZ developers lining up for de-notification.
13. Good to see the country able to resolve complex cases of Adani+Tata "compensatory tariff" through the good offices of CERC+Deepak Parekh.
14. Plans underway for PPPisation of Lucknow, Ahmedabad, Jaipur, Chennai, Kolkata & Guwahati airports. Majority stake+O&M to pvt sector.
15. The Land Acquisition Bill is philosophically correct in its broad construct. Removes gross historical misuse of 'eminent domain' principle.
16. Industry blames Govt+Subba Rao+ Min of Env. Govt blames Subba Rao+ Judiciary+CAG+NAC. Subba Roa blames Govt+Chid. Chid blames Pranab. Jai ho.
17. The extent of slowdown in road projects can be gauged from NHAI awarding 1116 km against target of 8100 kms in fiscal 12-13.
18. Heartening to see 6 responses to RFQ for Rly's Madhepura Loco project under PPP mode. 2 Chinese along with GE, Siemens, Alstom, Bombardier.
19. Nehru's vision revisited with Bhakra Beas Hydel set to celebrate 50th anniversary whilst new hydro projects in doldrums for some time now.
20. Gajendra Haldea calls it 'banana banking'. Writes a scathing letter to IBA on reckless lending practices of PSU banks to infra developers.
21. Why spend Rs 15,000 cr building two new ports when India's major ports require overhaul and are languishing with share falling from 71(%) to 58%.
22. And we were lead to believe that COAL was the problem! ET reports 18,000 MW of ready capacity desperately looking for electricity buyers.
23. Welcome. Montek says Plng Comm will soon finalise a draft Bill for speedy resolution of PPP disputes & place before Cabinet for approval.
24. Another new power regulator in the offing. Power Min moots POSOCO , which looks after transmission grids, to be ind transmission regulator.
25. A request for rescheduling premia by GMR for 1 project (Udaipur-Ahd)has now ballooned to a possible reset of 39 projects & Rs 1.51
lac cr.
26. In an aggressive and belligerent move, NHAI files complaint with Economic Offences Wing on alleged malpractices on Gurgaon Expressway.
27. World Bank to set up new off-Balance Sheet entity — Global Infrastructure Financing. Will seek contributions from Sov Wealth + Pension Funds.
28. Stuck projects go up. As per Project Monitoring Group, it is now Rs 15 lac crs. Power 7, Steel 3, Oil & Gas 2, SEZ/Roads/mines/others = balance.
29. Under no circumstances should Rlys be allowed to get away with trying to make Rail Tariff Authority merely an Advisory body.
30. Former Power Min Suresh Prabhu argues in FE that earlier UMPP model inherently flawed as it tried to make a fixed cost out of variable costs.
31. Just like Govt created CCI for logjammed projects, RBI needs to create a basket called 'Sovereign Stressed Assets' for special dispensations.
32. Big step for inland waterways. 70,000 tonnes of coal has arrived at Sandheads to be transported by 20 barges upriver to NTPC Farakka.
33. Agg losses (without a/c for subsidies) of State Power Utilities in 11-12 = Rs.92,845 crs. With Exec failure, time for Courts to step in?
34. Convergence developing in Banking circles to have loan periods synchronous with concession periods rather than squeezed to first 10-12 years.
35. Price pooling of domestic + imported gas imminent with FinMin doing its due diligence on the proposal prior to considering its acquiescence.
36. That the PM's Project Monitoring Group has recorded 340 'challenged' projects = Rs 16.5 lac crs is an embarrassing indictment of governance.
37. This fiscal, 17 projects on BOT (toll) & 3 on BOT ( annuity ) offered by NHAI did not elicit ANY response from Pvt sector. Problems are deep.
38. Deadline for shortlisting bidders for 5 Airports pvtisation now put off till Jan end. UPA II may not be able to push through in balance term.
39. Should not take so long for NHAI, MORTH, Concessionnaire, Lenders, Courts to find a sustainable solution to Gurgaon Expressway imbroglio.
40. What happened to setting up of Coal Regulator, Road Regulator & Rail Tariff Regulator ?!
41. The gap between ACS ( Avg Cost of Supply) of electricity & ARR ( Avg Rev Realised ) increased from Rs 0.49 /unit in 06-07 to Rs 1.08 in 11-12.
42. New PPP model for involving pvt sector in coal mining as MDOs (Mining Developers & Operators) still not yet ready. Mooted in early 2012.
43. Govt's plans for Infra Trust Funds good idea. Will allow equity investors access to diversified portfolio and complement Infra Debt Funds.
44. Multilats now going 'off Balance Sheet'. After a similar World Bank initiative, ADB announces plans of testing up a Asia Pacific Infra Fund.
45. Uptick in Power sentiment as FSAs signed+tariffs rising+fuel pass thru accepted principle+CCI push to projects+Discoms restructured.
46. Rangarajan Comm on Highway Premia wants to verify 'decreasing toll revenue claims' of developers by examining figures for 47 NHAI stretches.
47. Petroleum Secy says India needs to drill more oil wells. India drills 500 oil wells a year whereas US drills 50,000 a year.
48. Facing a possible downgrade, Civil Aviation Min trying hard to get winter session of Parliament to pass a new Civil Av Auth to replace DGCA.
49. After Orissa UMPP, Tamil Nadu UMPP also gets 8 responses. Issue now is how many of these technical bidders will put in Financial bids.
50. CEA recommends, Power Ministry proposes and Forum of Regulators agrees to separate 'distribution systems' from 'supply of electricity'.
Vinayak Chatterjee is the Chairman of Feedback Infra.