As China slows and India revs up, what can New Delhi learn from Beijing's errors in its high-growth phase?, asks Nitin Desai.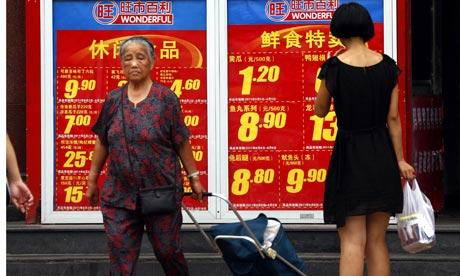 Image: China is now slowing down and expects growth of six to seven per cent rather than the nine to ten per cent of the past decades, say economists. Photograph: David Gray/Reuters
Prime Minister Narendra Modi's visit to China next month is the most important state visit he will make given the centrality of China to our strategic, economic and environmental concerns.
The PM's talks with the Chinese leaders will undoubtedly focus on the border issue and broader geo-strategic matters; but economic issues will not be far behind, given the proclivities of the two leaders.
President Xi Jinping has been talking about a new normal for Chinese growth, and one theme for the talks could be its implications for us and the rest of the world.
But a more interesting theme for us, as we launch ourselves into a phase of high growth, is what China would have liked to do differently in its high growth phase to make the transition to the new normal easier.
The Chinese participants at a recent seminar in Delhi gave some clues to how the new normal could play out.
The spectacular performance of the Chinese economy and its growing geopolitical clout over the past three decades will define the narrative of global history for this period.
Its share of global GDP (measured in PPP dollars) increased from around three per cent to over 15 per cent; of global commodity trade, from around one per cent to over 11 per cent.
In terms of contribution to global growth, China accounted for 25 per cent of global growth in the decade beginning 2000.
China is now slowing down and expects growth of six to seven per cent rather than the nine to ten per cent of the past decades.
The new normal that it is talking of now involves three types of rebalancing. First, a shift from exports to domestic demand as the source of growth.
Second, a planned effort to reduce income inequalities.
Third, a shift to more environment-friendly growth. One can add to this a fourth rebalancing: from reverse engineering to innovation as the driving force of technological advance.
The shift towards local demand as the engine of growth could mean a shift in the functional distribution of income in favour of wages, brought about by a growing shortage of labour and a reduction in the 50 per cent-plus savings rate.
When it comes to inequalities, Chinese policy seems more concerned about regional imbalances than in the growing rich-poor divide within the fast-growing regions.
Hence, a shift in infrastructure investments away from coastal areas to the interior in the western part of China seems to be the principal policy tool to address what the Chinese call social imbalances.
The rebalancing towards more environment-friendly growth will require a major shift in energy policy at the very least, and is already presaged in the hugely ambitious plans for renewable energy.
The shift in technological capacity towards innovation will require an ecosystem to nurture and support private sector start-ups.
What does this mean for us? First, slower growth in China will put downward pressure on commodity prices and benefit commodity importers like us and hurt commodity exporters.
Rising wages in China could mean a shift of labour-intensive manufactures from China to other countries.
But if Chinese companies hope to lead this outward flow, as is anticipated by some Chinese scholars, they will need more than money.
Moving to the higher rungs of global value chains requires a capacity for product innovation and brand building. That is not going to come easily to China's public sector behemoths.
When the Chinese participants in the seminar were asked what they would have liked to do differently in the double-digit growth phase to ease the transition to a middle-income, more egalitarian, more environment-friendly and technology-driven economy, the answers were interesting.
They thought the drive against corruption should have come sooner.
They did not spell out why - though one possible reason is the difficulty in reconciling a crack-down on a corrupt use of discretionary powers when the transition to technology driven growth requires the promotion of private enterprise.
The lesson for us is that we should get rid of crony capitalism now so that relying more on free enterprise for innovation-based growth becomes politically acceptable.
The Chinese interlocutors also felt that action on environment sustainability should have come sooner. Despite its bold plans for renewables, China is locked into a carbon-intensive economy and will be stuck with stranded energy facilities as it fulfils its commitment to peak its carbon emissions by 2030.
India's carbon emission peak will be many years ahead of that.
But if our energy policy is based on the premise that "cheap coal power is the cornerstone of the economic growth of any nation", as suggested by the energy minister, then this problem of stranded assets may come to haunt us also, as these coal based power plants will have a life of 30-40 years.
Another problem highlighted by them was that of excess capacity which they seemed to attribute to a competition for growth by local administrations.
They felt that a tighter planning discipline from the planners in Beijing would have helped.
In India too we are moving towards a competitive federalism, and could end up with a similar problem of excess capacity if the states, flush with funds from the Finance Commission award and the windfall from coal and mining auctions, go into indiscriminate infrastructure investments.
The problem of excess capacity is closely related to the health of the financial system -which in China, as is well known, is a potential source of instability.
It is a major barrier to any attempt to make the renminbi an international currency for trade or to develop Shanghai as an international financial centre.
We too have announced ambitions in this area and must heed this lesson from China as we enter a phase of massive infrastructure investment.
The Chinese interlocutors did not mention technological capacity as something which should have been addressed earlier - perhaps because their government has been planning for a transition to technology-driven growth for some time, with heavy investments in higher education, and public sector R&D.
The spurt in patenting activity in China suggests that an ecosystem for innovation is emerging.
But for it to flourish China needs a financial system that supports small start-ups. Frankly this is the most important requirement for the new normal to take root.