Companies big and small are shedding businesses that they no longer need or can't afford to keep, says Shailesh Dobhal.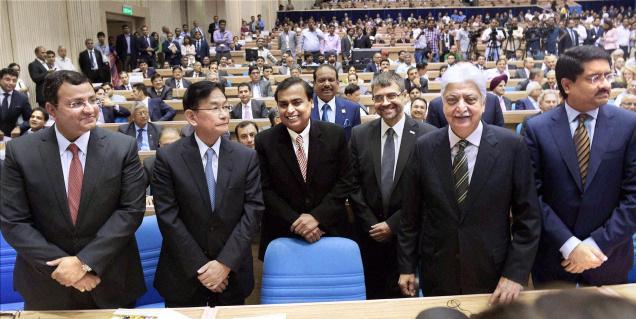 Image: Corporate houses including the Tata Group are exiting businesses that are no longer profit making. Photograph: PTI
Even as the debate rages on the sustainability of the incipient economic recovery, companies big and small are clearing the cobwebs and discarding what they think they no longer need or can afford to exit as they prepare for the future.
In the season of spring-cleaning underway at India Inc, apparently there is no touch-me-not family silver this time.
The salt-to-software conglomerate, the Tata group, has reportedly put its auto design firm, Tata Technologies, up for sale to strategic investors, and is looking at a billion-dollar valuation.
Avantha Group firm Crompton Greaves again is reportedly divesting its consumer business to a clutch of investors led by Advent and Temasek for a cool Rs 2,800 crore (Rs 28 billion).
Larsen & Toubro (L&T) Chairman A M Naik has gone on record saying the firm will exit all businesses with under Rs 1,000-crore (Rs 10 billion) topline, even if it means closing some if he can't find buyers.
Apollo Hospitals is looking at selling its eight-year-old health care software venture Health Super HiWay to Piramal Enterprises.
And the highly leveraged Essar Group, too, is reported to be in talks to divest its ports business, Essar Ports, to Adani Ports & SEZ at a enterprise valuation of around Rs 15,000 crore (Rs 150 billion).
The reasons for shedding businesses might vary - from cleaning debt-laden balance sheets, funding an acquisition or divesting what its no longer core.
And it isn't that Indian companies have not sold big, robust businesses in the past. Remember the Tata group sold its soaps business, Tomco, and the cosmetics business, Lakme, to the then Hindustan Lever Ltd in the mid-90s.
L&T divested many non-core businesses in the past such as cement and shoe-making, and Levers, too, has sold many a marquee brand in the past - Dalda to Bungee being one.
It is just that pragmatism - to let go - is back in fashion.
A caveat here.
Many groups, like Jaypee, GVK, GMR and Lanco, have sold assets in the last two-three years to pare debt, and many promoters have invited strategic investors with minority stakes into their core ventures, but here we are talking about exiting a business altogether.
Why, even the government is getting over its shyness, with strategic sell-offs or privatisation back in the lexicon.
And it is not just loss-making entities, even profitable subsidiaries of big state-owned firms will be on the block soon!
No business group has been as candid and forthright about shedding businesses as L&T.
Naik recently told this newspaper that "running L&T is not easy; it's too de-focused and is into all kinds of unrelated businesses", and that some of it could be his own failing in not being able to rein in his colleagues in starting businesses that are now bleeding. But the writing on the wall is clear for many.
Take the Rs 6,24,757-crore (Rs 6247.57 billion) Tata group, for instance.
Are over 100 operating firms across businesses as diverse as salt-making, auto designing, retailing to airlines - 32 listed among them - one too many?
Is the reported sale of Tata Technologies, if it turns out to be true, an early sign of Chairman Cyrus Mistry's attempt to 'shrink' and 'grow' the group in a direction different from the one he inherited from the legendary Ratan Tata in December 2012?
It is instructive to watch what's happening at General Electric, perhaps the world's biggest conglomerate. Jeff Immelt, its chairman for 14 years, has virtually sold off two-thirds of the firm that his legendary predecessor Jack Welch created - television programming, appliance business and all that - including last Friday's big exit from banking to become a "simpler" industrial business once again.
Though a GE-like strategic shift may not be possible or even wise for many diversified business groups in India, some level of pruning is in order, and we may well be witnessing some early, yet unannounced, signs of it.