Recent developments Down Under have raised, for the first time, misgivings about the arm's-length nature of the Modi-Adani relationship, notes Kanika Datta.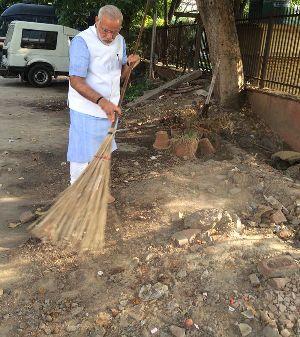 Image: Prime Minister Narendra Modi launches the Swach Bharat Mission.
Indian business and industry have never been so openly overjoyed about a political victory as when Narendra Modi became prime minister.
Traders powered the BSE Sensex past 25,000 in anticipation of his victory. Mr Modi has duly returned this regard with myriad promises and cryptically reassuring statements via the multiple social media sites to which he subscribes.
Both see mutual benefit in the relationship. Industry salivates at the thought of putting the days of ennui and corruption behind them and finally attaining the kind of business paradise that has eluded India since, well, 1947.
Mr Modi, with quite as much touching if naïve sincerity, hopes to make business and industry the deux ex machina to power a disciplined, obediently homogenised nation into the ranks of the rich and prosperous.There are undeniably honourable intentions on both sides of the equation.
But the problem with this heart-warming symbiosis is the lack of a Swachh Business Abhiyan, to purloin the label of Mr Modi's pet scheme.
Indian business has many legitimate grievances against the political class for not delivering an optimal business environment.
Corporations complain of the insidious harassment of petty officialdom that demand premiums for services for which they are legitimately due.
That is only one, admittedly irritating, aspect of the issue and it is not in any central government's control. But when Indian industry complains of corruption in public life it scarcely does so from the vantage point of the moral high ground.
Indeed it's the massive and intentional leveraging of money power to access public resources -- bank credit to coal mines, telecom spectrum and land, to name a few -- and manipulate pricing and approvals that weaken its case.
It is true that the United Progressive Alliance foundered on the blatant evidence of corruption; it is strange that the corporate sector has escaped public censure despite Arvind Kejriwal's best efforts on power and gas pricing.
Many of those who did or sought to benefit from the earlier regime are now making blatant overtures to the current one.
Nor has Mr Modi's accession to the prime ministerial office noticeably changed that perception.
Though the former chief minister of Gujarat has a conspicuously clean image, shares of Adani Enterprises, the flagship of Gujarat-based Gautam Adani's group of companies, soared 60 per cent in the month ahead of the national elections, almost as if the investor community was anticipating a link between Mr Modi's rise to power and Mr Adani's corporate destiny.
The surge in Mr Adani's fortunes only reinforces the notion.
In May, around the time Mr Modi was celebrating his party's stunning victory, Mr Adani acquired Dhamra Port in a Rs 5,500-crore deal (Rs 55-billion), the group's first acquisition on India's east coast.
In July, the environment ministry approved his port and special economic zone in Mundra with some conditions about conservation.
Unwarranted? Perhaps, but recent developments Down Under have raised, for the first time, misgivings about the arm's-length nature of the Modi-Adani relationship.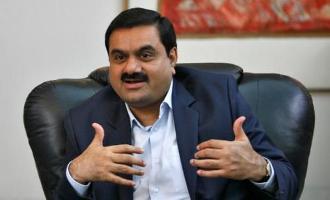 Image: Gautam Adani. Photograph: Amit Dave/Reuters
This was the $1-billion (approximately Rs 6,000-crore) loan that government-owned State Bank of India has pledged to lend Mr Adani's coal-mining venture in Australia during the prime ministerial visit.
This deal raises so many questions -- the viability of the project in a falling commodity cycle, the enormous debt on the group's balance sheets and SBI's own bad loan portfolio -- that it is impossible to ignore the hint of crony capitalism implicit in the deal.
Not that Mr Adani should be singled out.
In August this year, The Economist wrote a devastating leader on Mukesh Ambani, head of India's largest private sector company by market capitalisation and the country's richest man, "Reliance is a rotten role model for corporate India.
"When it comes to governance this secretive and politically powerful private empire is not a national champion but an embarrassment."
Watching the rise and rise of the Reliance empire from the mid-1980s, it is difficult to refute this statement.
But it is galling when India's corporate image is dominated by such examples.
But then, from real estate to pharmaceuticals, Indian companies have earned a reputation that is unlikely to attract admiration.
Should this matter? In his book Conquering the Chaos, former Microsoft India chairman Ravi Venkatesan has argued that India is no worse than other emerging markets when it comes to a 'doing business' environment.
It may also surprise many to know that Indian corporations performed the best among the BRIC countries in terms of corporate reporting in Transparency International's report. China, it turned out, is a major laggard.
But before we congratulate ourselves, it is worth remembering that China is somewhat sui generis in terms of business practices. Indian businesses, on the other hand, like to project themselves as adopters of global best practices.
Given that, the reality of this mutually reinforcing political-industry complex detracts from India's image as a place to do business as much as any other metric.
If Mr Modi can use his considerable moral clout to curb this dynamic, India would be so much better for it.