Gujarat was among the earliest civilisations in the sub-continent, dating back four millennia, notes Shreekant Sambrani.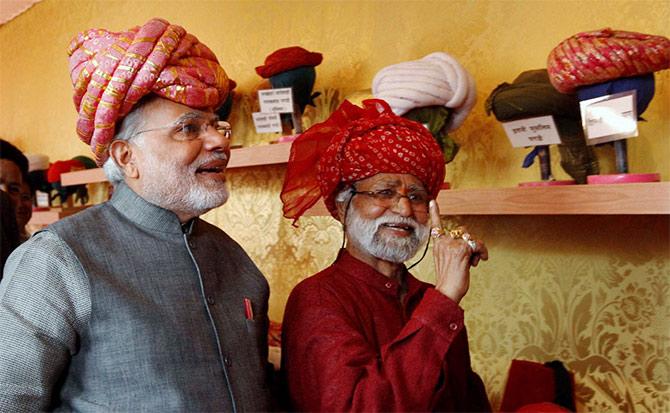 Image: Prime Minister Narendra Modi, left, in a traditional Gujarati turban. Photograph: PTI
This column borrows its title from a Gujarati film that is packing in crowds at multiplexes all over that state right now.
Entertainment tax exemption is only a minor contributor to its success.
That is largely due to the comedic manner in which it extols the Gujarati asmita (identity), of which aspiring to emigrate and become a non-resident Indian is an integral part.
Ordinarily, dwelling on this subject in the second year of Narendra Modi's prime ministership may be considered a bit passe.
But two unrelated occurrences tell this writer that Gujarat still grabs the nation's attention, after having been in the limelight throughout the 2014 general election campaign.
First, while travelling in eastern Uttar Pradesh villages last month, those who knew I was from Gujarat engaged me in extensive conversations about it and the Patidar agitation, while several of those who did not know where I was from, talked about the good life in Gujarat as they had heard from their friends and kin settled in that state.
Second, Professor Amartya Sen picks Gujarat (and no other state) to contrast Kerala's all-round achievements (which meet with his fulsome appreciation) in his new book, The Country of First Boys thus: "Gujarat's success in [infrastructure] ...is certainly a good development."
What is responsible for this fascination with Gujarat, and not just since the advent of Mr Modi?
Some answers may be found in antiquity. Gujarat was among the earliest civilisations in the sub-continent, dating back four millennia.
The ancient and medieval Gujarat habitats not only possessed high orders of civic amenities but also reasonably egalitarian and just administrative mechanisms.
It was and continues to be the true Gateway of India, mercantilism being its driving force.
It has attracted foreign traders from ancient times.
They were dazzled by its wealth and industriousness. Prosperity was shared, though obviously not equally.
Gujarat's maritime tradition is matched by that of Tamil Nadu, which looked eastward. Merchants - and not princes - from the two coastal regions established their presence abroad, leading to more lasting impressions and greater repatriation of wealth.
No surprise then that the two states' spirit of enterprise is reflected in their top rankings among major Indian states on per capita incomes (Haryana and Maharashtra are the top two, but would most likely slip lower if the influences of Delhi and Mumbai respectively are excluded.
Tamil Nadu and Gujarat follow).
The more adventurous Gujaratis of all stripes voluntarily travelled far and away in pursuit of fame and fortune, but mostly returned to their native land. This circulation (and not necessarily a diasporic movement) meant that Gujarat was globalising long before the term gained currency.
The signal success of one group of overseas Gujaratis provides an insight into what is truly the Gujarati business acumen.
These are the Patels, initially those expelled by Idi Amin of Uganda, but later joined by their kin from India as well, who now control a large number of motels in the United States.
In his well-reviewed The Dhandho Investor (John Wiley, 2007), Mohnish Pabrai shows with convincing logic and income and investment analysis that the Patels had picked a low-risk, high-return business with little competition.
The frugal living habits of the immigrants and the willingness of the family to provide all initial labour were the key.
"From... Patel's perspective, there is a 10 per cent chance of losing his [initial] $5,000 and a 90 per cent chance of ending up with over $100,000 (with an 80 per cent chance of ending up with $200,000) over 10 years."
Another group of Gujarati immigrants captured the news kiosk and local groceries business first in London and then all over the United Kingdom following the exact same approach. It also helped that most native stores observed 9-to-5 hours and Sundays as holidays, while the Patels stayed open 14 hours a day, seven days a week.
Talk of picking low-hanging fruit! At home, Gujarati enterprises may have started the same way, with small trading posts of low risks.
But the shrewd Gujarati business heads soon realised that growth was often accompanied by higher risks. So they devised appropriate de-risking strategies.
This meant that they had to arm themselves with domain expertise in accounts, legal systems and functioning of the economy.
No wonder Gujaratis are represented in disproportionately large numbers among chartered accountants, lawyers and economists!
And when even that was not enough, influencing policies by all available means to minimise risks was the answer: ask Dhirubhai Ambani and Gautam Adani! Come to think of it, the Narendra Modi-Amit Shah strategy of splitting the opposition to ensure electoral victories with a minority of votes is the extension of the same approach to politics.
Pabrai says with regard to the Patel motels, "If you went to a horse race track and you were offered 90 per cent odds of a 20 times return and a 10 per cent chance of losing your money, would you take that bet? Heck Yes! You'd make that bet all day long!"
If you win the Lok Sabha first, and then in quick succession the Haryana, Maharashtra, and Jharkhand Assemblies, would you follow the same strategy in Bihar notwithstanding its backfiring badly in the politically small potatoes of Delhi? Heck Yes!
---
Shreekant Sambrani taught at Indian Institute of Management, Ahmedabad, and helped set up Institute of Rural Management, Anand