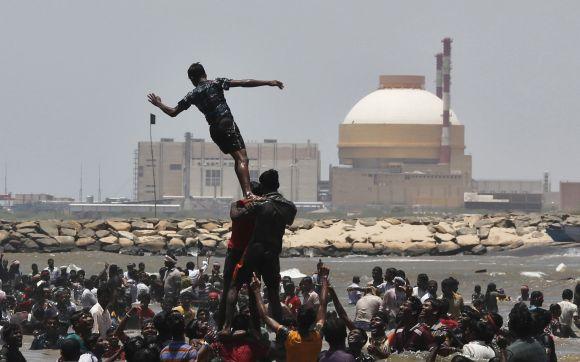 If you feel that the year 2012 is coming to a close on a depressing note focusing on an unusual New Year celebration in Kundankulam in Tamil Nadu might offer a glimmer of hope.
There are indeed reasons to feel terribly low. In Delhi protesters seeking basic human justice in a heinous crime against a young woman are clashing with police. Throughout the year local people who feel endangered by various kinds of industrial projects have been clashing both with police and private companies.
Reports of anger and violence currently dominate the news. There seems to be an over-all feeling that the system of governance is failing us and the process of development is not benefiting enough people – thus creating a suppressed rage that erupts sporadically.
In the blame game that dominates the public discourse government currently appears to be the main villain of the piece. But the prevailing heightened sense of crisis might serve as an incentive to look for deeper causes for the violence and unrest.
Curiously enough most of the world's fast rising economies are showing low ranking on the Global Peace Index. This index has been produced since 2007 by Institute for Economics and Peace which has offices in Sydney, New York and Washington D.C.

Its peace index has been developed in consultation with an international panel of experts from various think tanks with data collected and collated by the Economist Intelligence Unit. 
A globally dispersed set of countries appears at the top of this Global Peace Index. Iceland is at first place with Denmark at second, New Zealand at third, Canada at fourth and Japan at fifth place. 
In 2012 India's rating in the Global Peace Index was 142, a steady decline from 135th place in 2011, 128th place in 2010, 122th place in 2009 and 107th place in 2008.
Russia is now at 153rd place, down from 147th place in 2011, 143th place in 2010, 136th place in 2009 and 131st place in 2008.
South Africa stood at 127th place in 2012, down from 118th place in 2011, 121st place in 2010, 123rd place in 2009 and 116th place in 2008.
Among the BRICs nations Brazil and China are doing relatively better. Brazil is now at 83rd place but has been fluctuating from 74th place in 2011 to 83rd place in 2010, 85th place in 2009 and 83rd place in 2008.
China's rating in 2012 was at 89th place, which is down from 80th place in 2011 and 2010, 74th place in 2009 and 67th place in 2008.
The United States of America, still generally seen to be the world's most 'developed' nation, ranks just one place above China at 88th place. This is a decline from its 82th place in 2011 but an improvement over its ranking at 97th place in 2008.
Even if such an index is treated with some degree of caution and skepticism there is no doubt that violence and conflict are on the rise in many countries.
It is vital to highlight the pervasive nature of the problem and not treat India's problems as being uniquely acute. What we are dealing with is a global malice. 
There is an urgent need for civic bodies and forums of business and industry to create platforms for in-depth reflection on the sources of not just discontent and conflict but psychological alienation which sometimes leads to bizarre crimes like the recent shooting at a school in Connecticut, USA.
Granted that these are complex phenomenon that cannot easily be unraveled, let alone solved. But two elements of the problem in India are relatively more easy to address.
Frustration over bad governance can be channeled into constructive activity drawing on the experience of citizens who have doggedly organized and worked to change things for the better. There is urgent need for media to do still more than it does to highlight such creative and constructive work.
Many business forums have already been doing this by recognizing activists from different spheres by conferring awards on them. Some business forums have also lent their platform for sustained information and workshops to facilitate transformative activities – but this needs to happen on a much larger scale.
Above all, there is need to address conflicts over the model of development that India is now following. At present many in the business sector want economic growth with little attention to its human costs or alternative models.
Since 2011 such a conflict has led to repeated and violent clashes between protestors and police at Kundankulam in Tamil Nadu where local people are protesting against a nuclear power plant being built there. This is largely because government and industry and jointly unresponsive to demands for re-examining the need for nuclear power or at least imposing stricter and more transparent safety standards.
But the People's Movement against Nuclear Energy (PMANE) has now issued an unusual invitation to the people of India. It has decided to momentarily set aside the debate around nuclear power and instead just celebrate the people's resistance and their unrelenting spirit and their collective capacity to continue their peaceful struggle.
"Let all of us who believe in the struggle of the Kudankulam people come together to assert our freedoms, reclaim democracy, and celebrate the spirit of resistance" says the invitation to a three day event from 30 December 2012 to 01 January 2013. The celebration will include conversations, song, music, dance, poetry and films.
A statement by the Organising Collective for New Year @ Kudankulam, says:
 "At the core of all social movements and people's resistance are always communities of activists, who carry a simple truth: the human capacity to change. This shared belief is fundamental, to be retained and nurtured through a sense of belonging. There is always a frontline from where the power of domination and the state is confronted and struggled with to make way for social and political change; where people inspire, make sacrifices, families suffer and individuals are tested for their commitment. ...In bringing together the New Year celebration with a people's movement at the frontlines, we make the personal political, celebration a form of protest, and belonging deeper and broader."
Noted writer Mahashweta Devi has said in support of this call that: "... I hope that Kudankulam, the very name, will set an example before Indian citizens and lead us towards the victory of humanity."
In the midst of turmoil, when despair and pure outrage spills over, it is often difficult to focus attention on what it would take to ensure 'victory of humanity.'
That is when it is most important to draw on the ideas and energy of those who have been doing sustained work on issues of justice and fairness – be they women's rights activists, environmental activists or businesses that have pioneered ways of being more socially engaged.


Image: Demonstrators form a human pyramid in the waters of the Bay of Bengal, as they shout slogans during a protest near the Kudankulam nuclear power project

Photograph: Adnan Abidi/Reuters
Ta-Ta, Ratan: Tribute to an iconic Indian