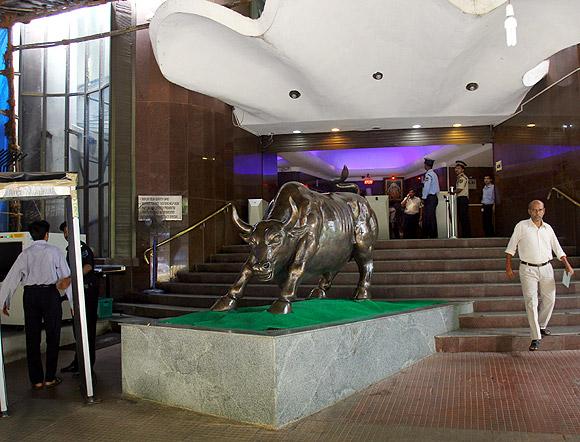 Bull markets need a a charismatic leader and a fancy destination, says N Sundaresha Subramanian.
As I was using the railroad system, Mass Rapid Transit (MRT), on Saturday to catch up with friends and relatives in the city one last time before I boarded the flight home, I came across something strange. For 80 days in Singapore, I had hardly seen any protest.
On that Saturday evening as I was walking towards the Clarke Quay MRT Station, I saw on the stage in HongLimPark a large banner saying "return our CPF". Moving closer, I saw a frail young man in black glasses posing for photographs with Singaporeans young and old.

One uncle, as Singaporeans address their elderly, wished the young man well and wanted him to "go all the way." Another uncle introduced a small kid and wanted an autograph.
The young man was Roy Ngerng. He has been sued by Prime Minister (PM) Lee Hsien Loong for some blog posts allegedly defamatory. Going by the public response, the move seems to have backfired. In the initial days, the case was taking a familiar trajectory: PM's lawyers were moving in aggressively for damages pushing Ngerng to a corner.

They even rejected his initial offer of S$5,000 as damages. Ngerng posted an online appeal for funds and in five days collected S$81,000. The response has got tongues wagging. On the subway to the Clarke Quay MRT Station, a man returning from the gathering said the PM could have saved his face by taking the offer; people have started chanting 2016 general elections and Ngerng in the same breath.
While it may be too early to predict a revolution, it would be safe to say there are interesting days ahead for Singapore and its leadership.
Bull markets are a bit like revolutions. They need a charismatic leader and a fancy destination. It was great fun to see the Street had bitten the bait of Sensex at 100,000 offered by Street Food last month.

Since then analysts have come with earnings projections and timelines that will take us to the number. Karvy Stock Broking says sees Sensex @100k in 2020, while Dhirendra Kumar of Value Research has talked about double that number.
When I left for Singapore, Reliance Industries Ltd (RIL) was trading at Rs 886. It is now 26 per cent higher at Rs 1,120. Street Food had said a sustainable bull market was not possible if RIL remained weak. The strength of the company, fuelled by expectations about its prospects under the new government, is a key for the rally.
So, there you have the fancy destination and the charismatic leader. Is that enough for the man on the road to jump in? I can speak for myself.

Despite all temptations, I am still mostly on liquid diet. Most of my life's savings is in liquid instruments; the bulk in savings bank accounts. Personal finance experts will call it nonsense. But am I ready for the plunge? No. I am still scared of the waterfall, which I suspect is down the river.