Brown and organic rice were just words to many who lived in cities

Many of those who visited my craft shop in Santiniketan had been asking for "brown" or "hulled" rice. Probably the ambience of the shop - the fact that we use no plastic and that recycling plays a big part in the products we design - made them think that we might have access to some villagers with a hull. Those who asked were mostly tourists from Kolkata, and as far as I know there are many shops that sell "brown" rice in the city, and even claim it to be organic. But the price, perhaps, is prohibitive.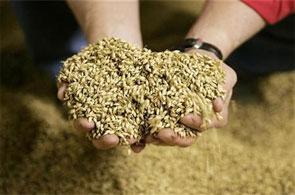 However, their faith in my knowledge was misplaced. I had no clue where could I find manually dehusked rice in or around Santiniketan. But I started asking around. Many artisans I work with live in villages in the suburbs of Santiniketan, but most of them drew a blank. They said their villages had hulls, but they had been abandoned several moons ago since nobody liked to eat that rice anymore. "Only milled rice makes you feel you are eating rice," they said in disdain, and advised me not to bother.
It was my vegetable vendor who finally pointed me in the right direction. Being an entrepreneur himself, he probably realised that I was not enquiring about the rice for my own consumption but to sell. He felt he might have a chance to make some money, too, and told me that he had access to a hull. He said women in his village would be ready to use the hull provided the order was large enough for at least two women to earn one day's labour. Our calculations showed that if I could take 25 kg at a time, he would be able to convince two women to revive their long-forgotten hull. I agreed and he promised to deliver within a week.
I opened the first packet and cooked it myself before putting it in the shop. In the absence of any registration or certification, my customers would depend on my recommendation. And unless I had it myself, I would not be able to give them honest feedback. I must admit the rice tasted nice.
Those customers who had been asking for the rice were happy to find it, and we were able to order many times over. Of course, many of them had questions - whether or not the rice was organic. I explained that it was not. It was normally grown rice that had just not been sent to a mill. In the process, I realised how "brown" and "organic" rice were just words to many who lived in cities.
It was my gardener - probably a bit peeved at how the vegetable vendor had managed to set up quite a business (that he, too, could have had if he had been faster on his feet) - who planted a seed of doubt in my head. Very tactfully, he said it was good that the vegetable man was giving us "real" hulled rice because he knew of some villagers who were rolling milled rice in jaggery and selling it as "brown" rice!
I asked my rice supplier whether it was indeed being hulled and he was not pulling a fast one. He said he wouldn't ever do something so dishonest, and especially with me, whom he has known for many years (my partner teaches his daughter English). I was convinced and left it at that.
However, he didn't. The next day he came with photographs of the women working on the hull, which he had taken from his mobile camera. I realised that he had taken my doubting him to heart. But he wasn't going to let go so easily. "Why don't I transfer these via Bluetooth to your phone," he said, "and you can show it to all your doubting customers".