Those behind recapitalisation are neither aware nor do they care.
After all, they have no skin in this game.
And the Lok Sabha elections are round the corner.
That's what they care about, points out Debashis Basu.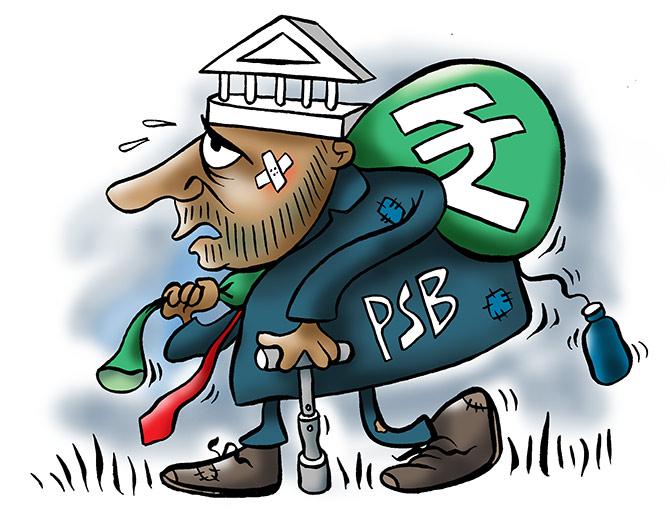 As it has done with most problems inherited from the Congress-led government, the National Democratic Alliance has tried to find a quick fix for the vast problem afflicting public sector banks (PSBs).
As part of that same ad hoc fix, the finance ministry plans to inject Rs 410 billion of fresh capital into ailing PSBs this fiscal year.
This, said the then finance minister, will allow five PSBs to exit the prompt corrective action (PCA) framework, which has restricted their lending capacity drastically and forced them to cut the concentration of loans in certain sectors.
Then finance minister Arun Jaitley said: 'The recognition of NPAs, a process that started in 2015, is almost complete.'
Rajiv Kumar, secretary, department of financial services, claimed: 'PSBs are showing tremendous improvements in terms of recognition, provisioning, recovery and reforms. Therefore, this is the time we empower them and equip them with capital so that banks are ready to support the growth of the fastest-growing economy.'
The question is: Will more capital change anything?
If you look at the performance of PSBs over the decades, it is clear that they have been beset by four problems:
Businessmen use political clout to extract loans, which go bad.
The government of the day uses PSBs to run various pet 'schemes', which drain their resources, including disguised 'loan melas', where the loans are given without any enforceable collateral.
At any time, many PSBs remain headless. At any time, 8 to 10 banks were without chairman and executive director.
Even the Banks Board Bureau, whose job is to recommend the right people to head banks, has been a lame duck.
There is no in-built system of rewards and punishment. Indeed, chairmen responsible for humungous bad loans have moved on to plum positions in the government and private sector.
Note that this government is not talking of making any changes to these four ills that have destroyed PSBs.
All talk is only about escaping PCA so that they can start lending again.
The only focus is how the increased capital will make balance sheets look better and reduce the NPA to capital ratio, which can be triumphantly displayed as an achievement.
Every government has done the same thing in the past; this one, despite all the nationalist rhetoric and invoking 70 years of misrule, has turned out to be no different.
Between 2008-2009 and 2016-2017, various governments injected Rs 1.1 trillion of taxpayers's money into PSBs.
This was pure dole.
The money was not linked to any performance improvements which would have been the most obvious thing to insist upon.
Why wasn't it done?
For the obvious reason that all politicians want to misuse PSBs for their own purposes, which is a toxic mix of populist ideas and crony capitalism.
Under the former they do loan waivers and loan melas.
Under crony capitalism they direct banks to fund large dubious business ventures, which turn into NPAs.
How big is the mess of bad loans? Not less than Rs 10 trillion, for which no politician or bank chairman has been held accountable or taken to task.
Recapitalising banks without any framework of carrots and sticks, as is being done, will perpetuate this theft of public money.
Congress President Rahul Gandhi got a lot of flak for announcing loan waivers in the three states where the Congress recently came back to power.
He has been criticised for being the kind of populist who kept India in poverty for decades, an 'economic saboteur', if you will.
Loan waivers hurt the PSBs and set a bad example.
But the bigger picture is that all politicians want PSBs continue to function exactly as they have all these years.
Force them to lend and lend badly and inflict bad loans on them.
There is no accountability of bank chairmen, the board of directors handpicked by the netas, secretaries, regulators...
Nobody wants to make them efficient enterprises, operating at arm's length from netas and babus.
Don't forget one of the first acts of the Modi government was to 'revive' 23 unlicensed district central cooperative banks in four states, 16 of them in Uttar Pradesh.
Yes, unlicensed!
Under the regulations, they should have been shut down.
What kind of signal came from that scandalous move?
The real intent behind the recapitalisation move is to get PSBs to start lending like before.
But there is a small irony here.
The whole lending landscape has changed rapidly in the past five years.
Lending is now dominated by small banks and finance companies.
There was a time when with more capital PSBs could 'support growth of the fastest growing economy', as Rajiv Kumar fondly hopes.
But times have changed.
Even recapitalised PSBs will lose ground to private banks and finance companies.
Those behind recapitalisation are neither aware nor do they care.
After all, they have no skin in this game.
And the Lok Sabha elections are round the corner.
That's what they care about.
Debashis Basu is the editor of www.moneylife.in