Sidbi acquires Ahmedabad-based start-up at hefty premium; founders deny link to govt.
Vinay Umarji in Ahmedabad Abhijit Lele in Mumbai report.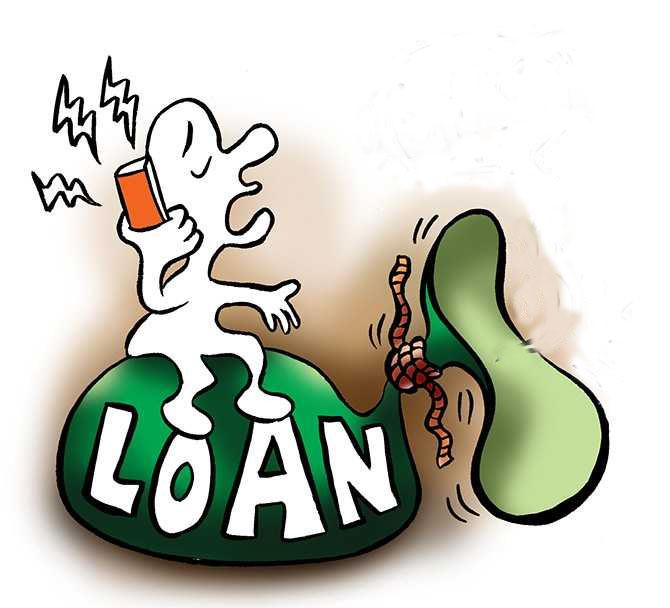 The nameplate at the entrance of Optionz, a commercial building in the heart of Ahmedabad, has changed from CapitaWorld Platform Pvt Ltd to PSB Online Loans Ltd just last month.
The third floor of the building houses the fintech start-up that runs www.psbloansin59minutes.com.
The portal hit the headlines for its scheme -- 'Get Public Sector Bank loans in 59 minutes' -- launched by Prime Minister Narendra Damodardas Modi in September to help micro, small and medium enterprises obtain loans quickly.
PSB Online, which has been handling the scheme since November 2, takes MSMEs seeking loans through a registration and eligibility process by scrutinising multiple sources of information, including goods and services tax returns, bank statements, tax returns, and credit checks. This information is processed to create a profile of the applicant.
The online platform then compares this profile with the parameters set by individual banks. Based on the match, applicants get to know if they are eligible for a loan.
If they end up applying for the loan, they pay a fee of Rs 1,000 plus 18 per cent GST.
Rather than the process, though, it is the choice of this company -- and its ownership -- that has raised a few questions.
A start-up to run such a mammoth scheme, possibly handling hundreds of thousands of applications and offering potentially rich pickings?
When this question is put to Jinand Shah, a chartered accountant and one of PSB Online Loans' co-founders, he rubs his temple, and wonders where to begin.
"We only wanted to plug the gap that MSMEs faced in availing loans from PSBs which has a huge potential. The PSBs bought into their potential and invested in us well before the launch of the government's initiative," said Jinand.
PSB Online Loans is now owned by a Small Industries Development Bank of India-led consortium of PSBs with a 54%.
PSB Online is a company set up by Jinand in 2015 with the help from family members and co-founder, Ronak Shah, who at that time was working with the Mudra ad agency.
"Having finished my chartered accountancy in 2005, I worked in Mumbai and later Ahmedabad where I handled SME financing and figured out a lot of bottlenecks. With Ronak's help, I began an online platform to help SMEs get funds quickly," said Jinand.
This was done by building an IT team that looked at technology and the functional aspects of banking in order to design a single application that took care of the due diligence sought by banks.
By 2016, having built a prototype, Jinand went to private banks and non-banking financing companies with the proposal.
"In 2016-17, public sector banks were still looking at taking their retail operations online. Many felt at that time, we were ahead of the curve. Then, the banks realised the potential of a MSME online platform and started testing us," said Jinand.
With the advent of GST last year, the platform benefited from a lot of user data being digitised for tax filing purposes which further eased loan applications.
Earlier this year, Ronak and another friend, Mukund Shivasubramanian, joined CapitaWorld as co-founders. The start-up raised around Rs 80 million through fund infusion by promoters and private placement at a premium of Rs 100 per share.
Soon, the start-up caught the eye of PSBs led by Sidbi looking for precisely such an online platform to expedite in-principle approvals and disbursement.
Last July, 54% equity was acquired by a consortium of six PSBs, including Sidbi, State Bank of India, Bank of Baroda, Indian Bank, Vijaya Bank and Punjab National Bank through the issue of additional shares for an amount of roughly Rs 2.25 million.
To date, CapitaWorld's paid-up capital stands at roughly over Rs 3 million on the back of funds infused by founders and equity from PSBs.
According to Sidbi, it was only on the basis of a valuation agreed that the consortium picked up stake in the company at a premium of Rs 119.39 per share.
"Like any other equity investment, the valuation was arrived at by a reputed external agency... the valuation process for an early stage fintech start-up was in line with the industry practice," Sidbi told us.
The acquisition also led to four out of seven directors on the board of CapitaWorld being nominees from Sidbi, its equity arm Sidbi Venture Capital, State Bank of India and Bank of Baroda.
Apart from Jinand, the board comprises co-promoters and bank nominees such as Vikas Shah, Manoj Mittal, Sandeep Diddi, Mustafa Mohammad, Akhil Handa, Narayanan Sadanandan and Vrunda Shah.
Of these, Handa is reportedly a founding member of Citizens for Accountable Governance, a support group involved in Modi's 2014 campaign. He is also co-founder and editor of the right wing media outlet, The Indian Republic, according to his LinkedIn profile.
Jinand dismisses the idea of a link between his company and the central government as "sheer coincidence".
"We have also learnt of speculation about Handa singlehandedly running the company whereas he is only a nominee director attending the board meetings and merely responsible for his role at Bank of Baroda. We have no links with anyone," said Jinand.
It has also been speculated that if, say, 100,000 MSMEs were to register, PSB Online would earn billions from registration fees and commission earned from PSBs on the loans disbursed.
Sidbi and Jinand reject this view, saying there is no registration charge, merely the Rs 1,000 fee (plus GST) for applicants.
As to commission, he said that, unlike private banks, PSBs don't work on the fixed commission model of 0.35% over loan disbursals.
"Depending on various conditions, the commission ranges between zero and a flat Rs 1,000," said Jinand, adding that the company is yet to break even because the cost of running the platform is so high.
As on December 25, PSBs have received a total of 131,028 completed applications on the portal www.psbloansin59minutes.com since its launch on November 2, 2018.
Of these, 112,043 applications for loans worth Rs 374.12 billion have been accorded in-principle approval while sanctions have been made in respect of 40,669 cases worth Rs 140.88 billion till December 25, 2018, Shiv Pratap Shukla, minister of state for finance stated in a Parliamentary reply.
Among the PSBs, while SBI has accorded the highest number of applications with in-principle approval at 33,009 for Rs 114.70 billion, the highest number of loan sanctions is by Bank of Baroda at 8,995 applications worth Rs 37.75 billion.
The lowest number of loan sanctions, however, has been by Sidbi for 42 applications worth Rs 154.5 million.
However, the '59 minute' claim still seems far off.
"Getting in-principle approval means nothing to an entrepreneur if the loan disbursal takes time. Even after in-principle approval, the bank will do due diligence such as site visits and data appraisal. As for us, we have been trying to track beneficiaries but are yet to find anyone," said K E Raghunathan, president, All India Manufacturers Organisation, which represents over 350,000 MSMEs.