New models of skilling will provide both jobs and entrepreneurship opportunities to inspire recipients to capture the jobs or entrepreneurial opportunities they seek and provide them the agency to stay on and improve on their skills on the job, says Ganesh Natarajan.
Illustrations: Uttam Ghosh/Rediff.com.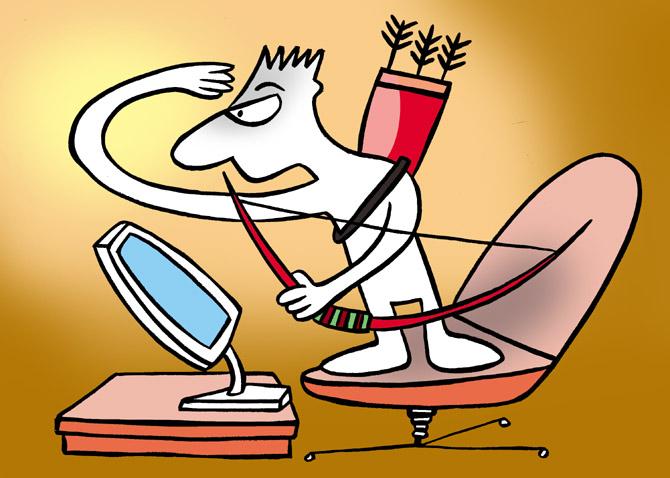 When the talk of automation and artificial intelligence impacting hundreds of thousands of jobs in manufacturing and services sector comes up in any forum, there is always one incorrigible optimist in the room who will point to the auto sector and even the computer industry, where new innovations destroyed existing manual jobs but created multiple more new ones.
In the current phase we have yet to see evidence of a massive job push in tourism, leisure and travel industries, showing the ability to enable full replacement opportunities for displaced employees in traditional roles and we will have to wait and see how the scenario plays out, in India and the world in the coming years.


Whatever be the adverse impact of digital technologies, the positive push provided to a variety of sectors -- manufacturing, financial services, logistics and even government citizen support services, by the thoughtful deployment of digital platforms and digitally enabled services cannot be denied.
This push -- provided by India's accelerated journey towards digital technology adoption, with broadband and mobile connectivity finally becoming affordable, and last mile connectivity happening through common service centres and smart cities -- is creating an expectation that technology will also be able to impact skilling and job creation at a rapid clip.
That would happen through better engagement, efficiency and eco-system creation.

New models of skilling are being adopted in the country by social enterprises, as well as not-for-profit organisations like Global Talent Track, Quest, Pune City Connect and NES Connect. They have demonstrated the power of deploying digital technologies at various stages of the livelihood creation cycle. This will provide both jobs and entrepreneurship opportunities to inspire skills recipients to capture the jobs or entrepreneurial opportunities they seek and provide them the agency to stay on and improve on their skills on the job.
Engagement enhancement is possible at every stage, from showing a world of possibilities to the enquirer to enabling the person to evaluate career options and start the learning process in a non-threatening environment. This engagement can continue through the early stages of employment or entrepreneurship to ensure that the enthusiasm does not fade. The ability of digital platforms, artificial intelligence and machine learning to customise the engagement process to each participant is making learning and placement a pleasurable and continuous process which can be replicated even in colleges and schools of the future.

The role of technology in increasing efficiency has always been emphasised. But in the livelihood creation domain there is an enormous possibility to deploy AI, bots, augmented reality and virtual reality to take the learner to quick and specific solutions for every learning and information need. And the possibility of creating an eco-system of coaches, mentors, and 24x7 querying facilities by synchronous and asynchronous response facilities is making it possible to improve both motivation and learning outcomes by many orders of magnitude.

Digital counselling, skilling and support platforms serve as true connectors for all eco-system participants, with the students benefiting from a variety of inputs from counsellors, trainers, mentors, alumni and potential employers. The online community is a support network of like-minded individuals for the youth throughout their life. The skilling profile that will be created and enhanced through dynamic interactions with the platform will be a lifelong identity for each citizen, making them willing participants in personal and community learning and role effectiveness.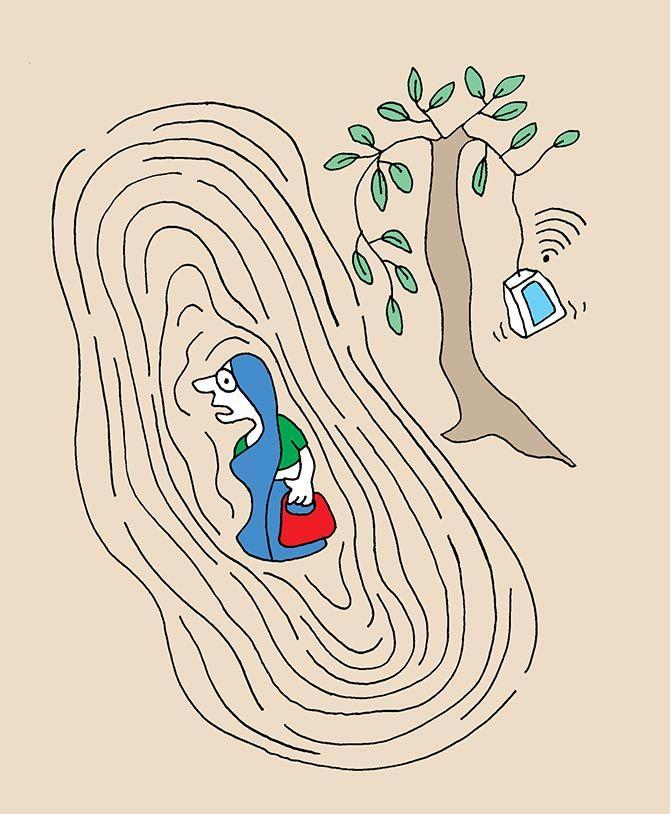 The 'Skill identity profiles' for youth, by treating student's personal context as the focal point for end to end vocational training and livelihood creation, is one of the critical areas where Digital India can truly enable Skills India and Start-Up India. The profiles will form the basis for building an online community of skill seekers who can then be mapped to appropriate skilling options. Hosting all the skilling and placement opportunities, available in a locality, on the platform will enable the youth to visualise careers and competencies required.
Utilising artificial intelligence to map the students to skills would be a significant improvement over existing system of random allocation, especially for semi-formal grey collar jobs. An integrated chatbot that understands the student's learning difficulties will reduce dependency on human intervention and make perfect matches happen between job or entrepreneurial opportunity providers and seekers.

At Social Venture Partners India, the Sustainable Livelihood Initiative, enabled by a Million Jobs Mission node, is identifying design partners who have the ability to contribute innovatively and help scale through innovation and collaboration. The government, through the well-conceived Atal Innovation Mission, is already deploying tinkering labs in schools, incubators in academic institutions and a nation-wide network of mentors who can point the way to aspiring candidates.
What is needed is a willingness and ability to launch major PPP initiatives that will connect the dots and provide a role for every participant in eco-system building for the new entrepreneurial and fully engaged India that is the expectation of all sections of the country.

While we wait for this to happen, there is a real call to action, already, for every employer and employee to stay focused on continuous learning.
Skill sets needed to retain old jobs and find new ones will continue to evolve and the days of 10 plus two plus three or four or six years of education followed by a lifetime of entitlement are surely over. Each one of us will be responsible for our own livelihood and ongoing success.

Ganesh Natarajan is chairman of 5F World, Pune City Connect and Social Venture Partners India.