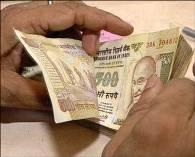 In this Budget, the government has raised the outlay for social sector schemes - from drinking water and sanitation to education and health.
This is clearly important. But the question is: how will this money be spent so that it can make the difference in people's welfare?
At this moment, there is little understanding about how to ensure that the social service schemes are more effective and reach the people they are meant to service.
In fact, it is time the United Progressive Alliance government took a hard and careful look at this failure to deliver on its promises. In the past six-odd years, this government has increased spending on the social sector and rural development schemes.

According to the Economic Survey, it increased from 13.38 per cent of total central expenditure in 2006-07 to 18.47 per cent in 2011-12. In this Budget, all such schemes have seen an increase - marginal or substantial.
But questions remain unanswered. With all this done, we still have appalling rates of malnutrition - exacerbated by the complete lack of sanitation facilities, leading to bad health.

Census 2011 reveals that we are failing completely in ensuring something as basic as toilets in homes. Roughly 70 per cent of rural India and 50 per cent of India overall still defecate in the open. The entire decade's advancement has been so little that it is not even worth talking about.
We also know that we can get pipes or hand-pumps to villages for water, but then we find that the water source has dried up or got polluted. Either way, drinking water becomes a zero-sum game, where government "reaches" villages with water provisioning, and then finds that it has the same number of "unreached" villages with no water provision.

It is long past time we bit this bullet of the crisis of delivery. Otherwise, each Budget will come and it will be applauded for an increase in allocation - but there will be little change on the ground.
The second big takeaway in this Budget is about agriculture. It is clear that we need to find answers for this critical life-and-livelihood sector fast. The Economic Survey reveals that agriculture sector's contribution has shrunk to 13.9 per cent of GDP, but it still accounts for the livelihood of more than 50 per cent people.

In this sector, the contribution of forests has gone down to near-insignificance - less than 1.5 per cent. In Budget 2012, the finance minister has announced enhanced support for the green revolution in eastern India, which is increasing paddy yields. But this does nothing to fix the mess in which the sector finds itself.
We know that farmers face a double whammy. On the one hand, input costs are increasing - from fertilisers, seeds, and water to labour. The cost of labour, for instance, in most states, has increased by 20 to 35 per cent in the past two years.

While, this brings direct benefit to people, it also adds to the cost of food. The minimum support price (MSP) has also increased, but not enough to pay for the increased cost of cultivation.
In eastern India, for example, which appears to be undergoing a second green revolution farm input costs have doubled, but MSP has not.

Then, when there is a bumper crop, as there was in eastern India, and prices crash, public procurement could not take up the increased yield. Paddy rotted on the roads. Farmers suffered.

There was news of suicides, for the first time, from the rice region of West Bengal. The increased Budget outlay must ensure that this mismatch is fixed. Otherwise, more money will not be of any help.
This brings us to the third big non-takeaway: subsidy reform for fiscal prudence. All talk is about the need to reduce the subsidy bill to get it to two per cent of GDP. But there has been no correction made to ensure that the burgeoning fuel subsidy is brought under control. I speak here about the growing use of subsidised diesel in private vehicles.
The government knows that the price of fuel is up, and there is all possibility that the price, volatile as it is, may increase in the coming months. Our import bill for oil is up, as is the under-recovery of oil companies in the supply of fuel. This is breaking the back of the Indian economy. We know all this.
But the Budget does little to fix this problem. The use of diesel in private vehicles is up, and any increase in the price of petrol only adds to the differential, to the pushes for more dieselisation, and increases the loss to the oil companies and toxicity in our air.

Again, the government knows all this and there was serious talk of a tax on diesel vehicles to reduce this burden to some extent. But even this small step - which neither impacts the aam admi nor adds to inflationary pressures - has not been taken.

Instead, all that has been done is to increase the tax on large cars from 22 per cent to 24 per cent in the category up to 1500 cc and to 27 per cent in larger vehicles. This is good, but not good enough. It will not stop the dieselisation of vehicles.
The Budget does assume that fuel subsidy will be cut by some Rs 25,000 crore in this fiscal. The zillion-dollar question is: how will this happen? When and where?
It would be best to say that Budget 2012 has more of the same and the same does not add too much. This is the verdict we cannot afford.
<B>Sunita Narain</B>, <I>Director General, Centre for Science and Environment</I>
Union Budget 2012-13: Complete coverage