It's debatable whether going back in time -- twice in a span of four years -- by bringing back a once-proven leader at the top is the correct thing to do when Infosys desperately needs to be made future-ready, says Shyamal Majumdar.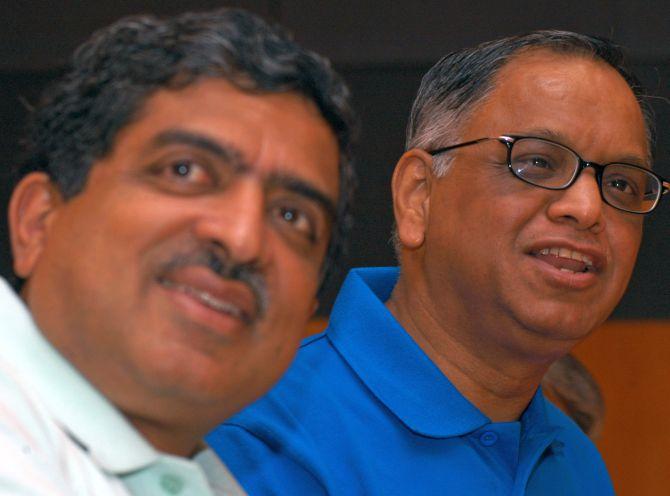 With N R Narayana Murthy and Nandan Nilekani, two retired Infosys co-founders have now returned to the company.
Photograph: Jagadeesh Nv/Reuters.
The return of Nandan Nilekani to Infosys, a company he left a decade ago, is being celebrated by almost everybody.
No one can dispute the fact that the celebrated co-founder and former CEO of Infosys has the moral and intellectual heft to quell the ongoing management turmoil. Infosys, Nilekani's well-wishers say, needs his healing touch to come out of its biggest crisis.
The excitement over Nilekani becoming non-executive chairman is a reminder of the celebrations four years ago when N R Narayana Murthy came back to Infosys as executive chairman after the board invited him to "steer the company back to its previous glory".
The crisis then had nothing to do with corporate governance, but with financial performance. In the previous two years, the company had missed its revenue and profit growth forecasts several times and was overtaken by Cognizant in annual revenue.
After taking over, Murthy had famously said, "This calling was sudden and most unusual. But, then, Infosys is my middle child. Therefore, I have put aside my plans-in-progress and accepted this responsibility."
Nilekani didn't repeat that exactly, but said he was happy to return to Infosys to capitalise on the business opportunities.
Murthy left Infosys within a year after appointing a professional CEO; Nilekani might do the same.
But is this the right way to go for a company such as Infosys?
It's debatable whether going back in time -- twice in a span of four years -- by bringing back a once-proven leader at the top is the correct thing to do when Infosys desperately needs to be made future-ready.
It's clear that the founders and the board have failed miserably in managing a natural transition to professional leadership in a company where the shareholding pattern is widely dispersed and promoters' share is minuscule.
In any case, barring the three-year stint of Sikka, each of the founders had a turn at being CEO; so there was no reason to go in for a short-term solution of bringing Nilekani back, however successful he might have been in his earlier stint at Infosys. Though his designation is non-executive chairman, there is no doubt in anybody's mind about who will be guiding the fortunes of Infosys as long as he is there.
Infosys' founders would perhaps do well to look at the track record of "boomerang CEOs", commonly known as returning CEOs.
The record has, at best, been mixed, except for the spectacular comeback of Steve Jobs at Apple, who was forced out of the company in 1985 after losing a power struggle to then CEO John Sculley. Jobs was invited to return to Apple in 1996, and turned the computer maker into a technology powerhouse.
Most others could not provide the Midas touch everyone expected.
Consider Procter & Gamble's experiment with its former CEO, A G Lafley, who was asked to come out of retirement in 2013 and bail the company out of trouble. Lafley's return was then seen as just what the doctor ordered and a Bloomberg headline said it all: 'P&G looks for a Steve Jobs-like sequel'.
Unfortunately, that sequel remained just a wish, as Lafley had to step down two years later following P&G's indifferent financial performance.
There are many other examples: Jerry Yang of Yahoo!, who co-founded the search engine with David Filo in 1995, and Mark Pincus of Zynga, who returned as CEO of the struggling game maker in 2015, but wasn't able to do much.
The most spectacular failure has of course been Kenneth Lay, who returned as CEO of Enron in 2001 and could only see the company crumble in his hands.
The best argument for "boomerang CEOs" is that they are known quantities, and will thus reassure both employees and investors.
And in times of crisis, many companies may not have the time to do a comprehensive search for a new CEO. It makes sense then to bring back the person who likely knows the company better than anyone -- its founder and former CEO.
But the counterargument is that founders can't consider themselves to be indispensable -- as if the company would crumble if any of them is not part of the real action.
The most obvious result would be that real talent would like to keep a safe distance from such companies. That would be the real loss for Infosys.
Narayana Murthy and his co-founders built a great company. It might have become even greater had they left it to their professional successors to take it to the next level.