A new motivation needs to spread through the existing ranks to upskill and reskill themselves in the 55 new job roles for digital, says Ganesh Natarajan.
Illustration: Uttam Ghosh/Rediff.com.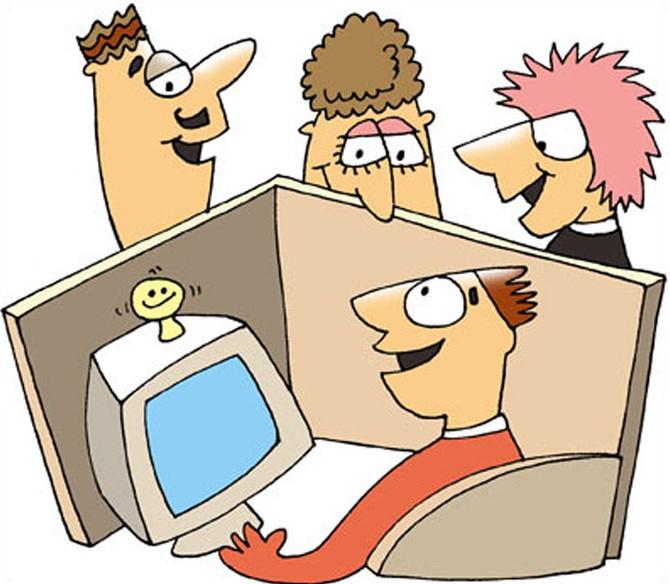 It has been one more interesting quarter for the information technology (IT) and business process sector in India and the results clearly demonstrate what I have been predicting for the last six months.
Our companies are smart and while they may have taken a little longer than desirable to realise that the decline of traditional business would not be easily compensated by the rise of digital, they know what needs to be done and many are doing what it takes to get back to double-digit growth.
The five large firms -- TCS, Wipro, Infosys, HCL and Tech Mahindra -- have done well on average, with HCL leading the pack and Wipro and Infy showing definite signs of growth renewal, the revival extends to the next tier of companies with quite a few reporting results that will augur well for a broad-based recovery of the sector.
Mindtree, the top company in the next tier has grown 2.3 per cent in sequential quarters with 4.1 per cent derived from organic growth, while the digital acquisitions made by them have not started firing yet.
While the company is only forecasting high single-digit growth for the year, a multi-million-dollar digital transformation deal and the commitment to digital growth in all verticals are good signs for the future.
KPIT has done well in recording sequential growth of 4.8 per cent driven by strong performance in engineering and products businesses.
Persistent, while showing a moderate sequential growth of 3.6 per cent and a weak quarter for digital, has reaffirmed its confidence in doing double-digit growth for the year driven by digital deals.
All three cases, however, continue to reinforce the argument that has been made in the past -- that a transformative approach to marketing, consulting and delivery strategies will have to be considered if they need to see a return to 20 per cent plus growth numbers, currently enjoyed only by Globant and Luxoft.
Industry watchers will be looking for signs of this transformation from all IT services providers, large and medium, and the emergence of digital platform players, who can create a new wave of growth.
In the related but not entirely IT services space, Cyient reported flat sequential numbers but a robust 12.8 per cent year-on-year growth for the first quarter, with its diversified portfolio of design-led manufacturing, engineering and aerospace and traditional services.
Again, as in the previous quarter, the stand-out performance comes from WNS, with a 13 per cent sequential and 21.7 per cent year-on-year growth, albeit helped by incremental revenue from three acquisitions.
Growth for the year is expected to be in the 20-25 per cent range, which will place the company squarely in the leadership slot for the industry.
While some results are yet to come in and will bring in some additional ups and downs, there is reason to believe that at least a dozen Indian listed firms and maybe half that number of unlisted firms will re-enter double-digit growth this fiscal.
But that will be too little too late for an industry that was once so far ahead of other sectors in the country and still has over 50 per cent of offshore outsourcing market share.
Vivek Wadhwa, professor at Carnegie Mellon University, recently chided Indian IT chiefs for failing to turn their ships around in spite of the writing being on the wall for many years that western markets were changing and large IT contracts were disappearing.
While accepting this accusation in part, one must hasten to add that a lot of the panic on lay-offs and retrenchments is just negative hype.
Fresher addition and skilling will continue and will hopefully be done through digital platforms that can enable large numbers to be readied for the digital transformation imperative.
A new motivation needs to spread through the existing ranks to upskill and reskill themselves in the 55 new job roles for digital that NASSCOM has identified and published.
Non-performers will continue to be under the microscope, but we have seen through the deployment of digital reskilling platforms like Skills Alpha, an investment by 5F World, that career management, skill gap identification and engaging skilling mechanisms powered by smart bots and adaptive learning mechanisms enable reskilling to happen at a fast pace in all organisations, small, medium and large.
However, a few words of caution as Indian firms move on to climb the mountains that the next three quarters will reveal.
Professor Wadhwa has rightly said that it is executives from other parts of Asia, noticeably Japan and Korea, who have embraced the fourth industrial revolution and started adopting the technologies that will enable them to rebuild competitive advantage.
His accusation that Indian executives, in spite of their inherent smartness, exhibit overconfidence and insularity may insult some people here, but it is worth focusing, not just in IT but in every sphere of manufacturing and services activity, on adoption of best technology and practices to establish global competitiveness and supremacy.
A recent visit to the Samsung Delight Centre in Seoul showed us how far tech companies in that country are in their thinking about individual and corporate preferences in the future.
We need to develop this farsightedness and prepare our people for major change to retain and improve our place in the totem pole of global success.
Ganesh Natarajan is founder and chairman of 5F World. He can be reached on Ganeshn@5FWorld.com.