Access to India's defence market must be made conditional -- available only to those who are ready to make a long-term commitment in India, argues Ajai Shukla.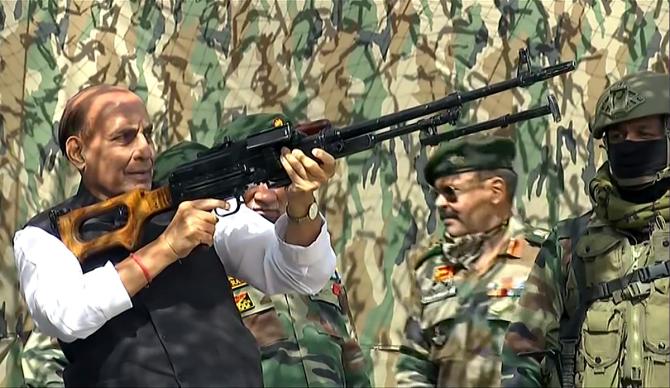 Over the last six months, Defence Minister Rajnath Singh and select ministry of defence officials have been addressing industry gatherings -- in virtual conferences, given the Covid-19 pandemic.
In their presentations, the MoD officials have talked up the defence policy reforms instituted since 2014, which they argue will boost defence production in accordance with Prime Minister Narendra Modi's slogan of 'Atmanirbhar Bharat' (self-reliant India).
The officials cite the promulgation of a 'negative import list' of 101 defence items, the new Defence Acquisition Policy for 2020 (DAP-2020) with its emphasis on indigenisation, the new Defence Production and Export Promotion Policy (DPEPP 2020) that will help raise annual defence production to $26 billion and arms exports to $5 billion each year, the establishment of two defence industrial corridors in Tamil Nadu and Uttar Pradesh and, of course, the recent liberalisation of foreign direct investment (FDI) into India's defence industry.
On September 17, the department for promotion of industry and internal trade raised the defence FDI cap from the existing 49 per cent to 74 per cent under automatic route, for companies seeking new industrial licences.
This created an optimistic buzz amongst Indian defence firms, as well as global defence giants who saw an exciting opportunity to participate, with a majority stake, in defence contracts reserved for Indian companies in categories such as 'Buy (Indian designed, developed and manufactured)', 'Make-1', 'Make-2', 'Strategic partner' projects and development projects in collaboration with the Defence Research and Development Organisation.
This euphoria lasted just 13 days.
On September 30, the defence minister released a new Defence Acquisition Policy of 2020 (DAP 2020), which appeared not to have heard of the revised FDI cap. DAP 2020 stated that "a company is considered as 'owned' by resident Indian citizens if more than 50 per cent of the capital in it is directly or beneficially owned by resident Indian citizens and/or Indian companies, which are ultimately owned and controlled by resident Indian citizens.
This implies that the maximum permitted foreign direct investment (FDI) shall be 49 per cent.
No pyramiding of FDI in Indian holding companies or in Indian entities subscribing to shares or securities of the Applicant Company or the Strategic Partner shall be permitted. 'Indirect foreign investment shall be accounted for in counting the forty-nine per cent FDI.'
DAP 2020 also cites the measures defined in the Companies Act, 2013, to ensure that the control of companies participating in the defence tenders mentioned above remained in the hands of resident Indian citizens.
It says: 'Control shall include the right to appoint majority of the directors or to control the management or policy decisions, including by virtue of their shareholding or management rights or shareholders agreements or voting agreements.'
Amongst the questions this apparent contradiction raises are:
What precisely was intended by raising the defence FDI cap from 49 to 74 per cent?
Is there going to be differential treatment of Indian companies with 49 per cent foreign ownership compared with those that have 74 per cent foreign ownership?
And, perhaps most importantly, why would international defence vendors make a 74 per cent investment in the Indian defence sector when that entity will not even be considered an Indian vendor; and would, therefore, be ineligible to bid for projects reserved for Indian companies?
Defence FDI policy has lacked a clear purpose ever since 2001, when the private sector was allowed into defence production.
Perhaps for this reason, total FDI inflows into the defence and aerospace sector from 2001 till the present has amounted to a mere Rs 3,454 crore, according to an MoD statement in Parliament on September 14.
Of this, Rs 2,133 crore came in from financial year 2014-15 onwards -- a princely Rs 350 crore each year on average.
The MoD has never quite understood, or enunciated, what it seeks by liberalising FDI in defence, even though the cap has gradually inched up from 26 per cent in 2001, to 49 per cent in 2016, rising to 74 per cent this year (all through the automatic route).
On the one hand, this has been tentatively viewed as a way to bring cutting-edge military technology into India; evident from the MoD's policy caveat that 100 per cent FDI would be permitted for high-technology projects.
On the other hand, FDI liberalisation has been viewed as a means to boost defence manufacture, even if only of low-and-medium tech items that global 'original equipment manufacturers' (OEMs) would prefer to build in India because labour arbitrage made it cheaper than running factories abroad.
The argument that raising the defence FDI cap, even to 100 per cent, would lead to the development of defence manufacture in India is based on the flawed premise that the defence industry is market driven.
In fact, governments tightly control the manufacture of cutting-edge military equipment. Even when a defence OEM sees a terrific business case in transferring manufacture to India, it is not the firm's board but its home government that will have to give it the nod.
In countries with advanced defence capabilities, legislative frameworks, such as the US International Traffic in Arms Regulations, govern the release of proprietary defence technology. In most cases, strategic concerns govern their decisions, not economic logic.
There is greater logic in raising the defence FDI cap, even to 100 per cent, in order to increase manufacture, create employment and develop the production skills that come from building even medium-tech products, such as electronic circuitry, fuse boxes or airliner landing gear.
Given that we import 55-60 per cent of our defence needs, much of it bought in single-vendor contracts from Russia, US, France and Israel in fly-away, sail-away, drive-away or carry-away condition, nothing is lost by allowing those vendors to set up fully-owned production units in India to manufacture significant parts of their large purchase orders.
This would create an eco-system of high-quality manufacturing units located in India, even if owned by foreigners.
While this has been tentatively explored through the offset route, there is a case for making all current and future direct procurement from abroad conditional on setting up manufacturing facilities in India that would be fully owned by the vendor. Access to India's defence market must be made conditional -- available only to those who are ready to make a long-term commitment in India.
Finally, persuading global OEMs to establish fully-owned, or 74 per cent-owned, manufacturing units in India will go some way towards creating an environment of heightened competition, spurring own Indian private and public sector companies to compete in building international-quality products that have been proven and stabilised.
Perhaps this might spur Indian industry and the defence industrial estate to aim for state-of-the-art products, rather than those already available in the global arms bazaar.