Some airlines, says Anjuli Bhargava, are convinced there's a conspiracy to malign them.
Illustration: Uttam Ghosh/Rediff.com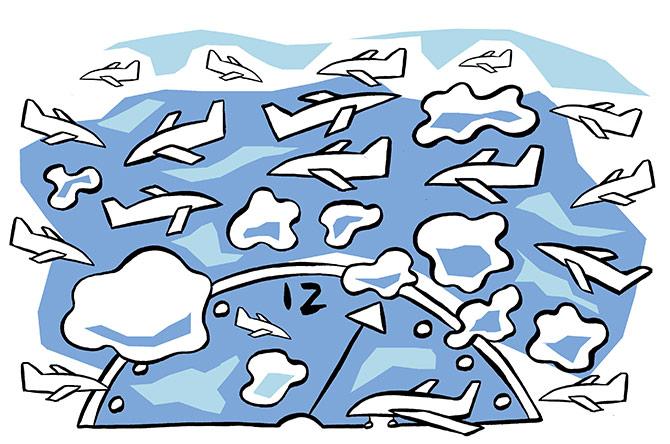 The last few weeks of 2016 and the first few of 2017 have been full of woes for passengers and fun and games for the aviation sector in India.
Loads of flights across the country had been delayed.
With fog enveloping Delhi and north India somewhat earlier than usual, flight schedules in and out of Delhi and many other northern sectors had gone haywire.
On-time performances of most airlines took a severe beating.
Late has, of late, truly turned out to be a four-letter word for IndiGo, the largest private player with the airline's OTP taking a particularly severe beating.
I know this even without Directorate General of Civil Aviation data because three of the four IndiGo flights I have taken in the last couple of months were late.
Consequently, an ugly battle has broken out between IndiGo and SpiceJet, with the latter issuing full page advertisements in newspapers.
They showed SpiceJet's OTP to be at 70 per cent while IndiGo -- which prides itself and has marketed itself on this single parameter -- is in fifth position, with an OTP of 61.6 per cent.
The battle between the two has been simmering for a while now and it hasn't helped that a key official from SpiceJet recently defected to IndiGo, leading to more bad blood between the two rivals.
As usual -- with this industry that seems to lack maturity all across -- everyone is blaming everyone else.
Airports say airlines are to blame.
A report filed by the Delhi International Airport Private Ltd to the DGCA argues that a majority of the delays were due to airline unpreparedness.
Airlines say airports and airport officials are to blame.
Some airlines are convinced there's a conspiracy to malign them and everyone -- as usual -- is blaming the government, the only point on which all unite.
The absurdity of the situation is highlighted by the fact that the airlines are arguing over not 90 or 95 per cent OTPs but in the 70 per cent range -- hardly something to advertise, to my mind.
When I asked IndiGo's President Aditya Ghosh why his airline was lagging behind -- given that external factors are faced by all equally -- he refused to give any concrete reason.
He said there was "fudging of data" by certain players and that two Mumbai International Airport Limited officials had been suspended in connection with this.
He also said the DGCA was investigating all private airports and a report on this would be available by the end of this month.
To my mind, the fact that IndiGo's OTP has slipped during this period should actually be of no surprise.
Forty per cent of the airline's aircraft are parked in Delhi and one foggy morning plays havoc with the entire schedule as delays snowball.
Even while the industry is preoccupied with its petty battles, I think there is a larger point that needs looking into by the authorities.
Delays are usually a function of one of the four factors: Inclement weather, congestion at airports due to heavy traffic, airport services related delays and finally inefficiencies of the airline.
While the last remains strictly within the airline's control, some steps can be taken almost immediately to mitigate the other factors.
Better usage of runway capacity is one area.
There has been improvement in this area, pilots and aviation sources say that we are still far from the international best practices.
To mitigate the impact of fog and bad weather, all aircraft, pilots and airports need to be Cat 3B compliant (a landing system which allows aircraft to land in very low visibility) and equipped.
A separate blame game is on between the airports and airlines on this count.
And lastly, since new runways and airports cannot spring up overnight, airports like Mumbai and now even Bengaluru (slot constraints are evident at all the major airports especially in peak times) have to come up with some innovative new solutions to manage their traffic till they could add capacity.
What's scarier is that report after report suggests that India is heading for an 'airport capacity crisis.'
A recent CAPA report points out that 12 airports have reached saturation, six will be saturated in FY17 and five in FY18 (including critical ones like Mumbai and Chennai).
Forty of the large airports are expected to exceed their design capacities in the next decade.
All this while traffic and aircraft grow at a fast clip.
Close to 1,000 aircraft (including SpiceJet's latest order of 205 Boeings) are on order by Indian airlines.
Centre for Asia Pacific Aviation estimates that traffic would grow to around 240 million by 2021 (from around 139 million in 2016).
If the gap is not bridged, delays could well become a way of life.