Budget 2018 bears imprints of a government unsure of second term with clear majority, says Shekhar Gupta.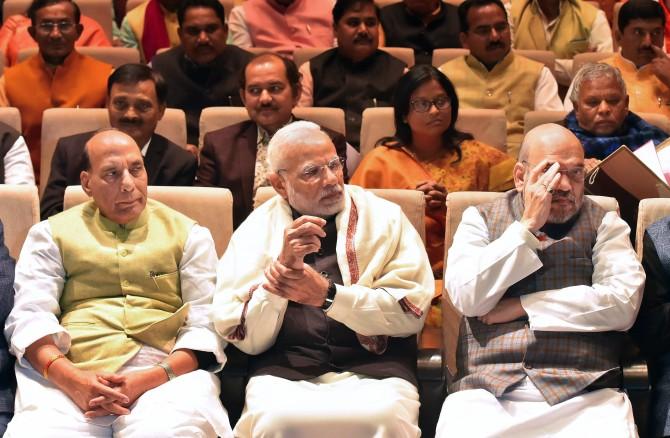 Image: Prime Minister Narendra Modi flanked by BJP President Amit Shah (right) and Home Minister Rajnath Singh at the BJP parliamentary party meeting, during the Budget session 2018-19 of Parliament in New Delhi on February 1, 2018. Photograph: Atul Yadav/PTI Photo.
Sleep metaphors have always been popular in describing central Budgets. These are variously called "dream" or "nightmare" Budgets, usually depending on which side you are on, in the government or the opposition.
It would be reasonable to say, however, that the NDA government's final full Budget in this term is a "restless" budget.
We prefer restless, because "rattled" is too strong a description yet, although it is the budget put together by a worried, impatient government not as sure of a second term with a clear majority as might have been six months earlier.
The Gujarat election was a shock, the traction Rahul Gandhi has been getting since his latest return to active politics is a cause for concern, the latest India Today Mood of the Nation poll has shown for the first time that the BJP is still the front-runner to lead the next coalition but is unlikely to have a majority of its own.
That isn't what Narendra Modi would be satisfied with. His style and method leave very little scope for leading a real coalition where the allies can make demands and, if not given what they want, threaten to walk out.
Some of the existing allies, Akali Dal, Shiv Sena and Telugu Desam Party are vocally impatient, and Nitish Kumar can be trusted to always end up with the (likely) winning sided. Narendra Modi needs his 272. Any less, and he will be half the prime minister he has been in this term. He will not accept that.
Does this Budget help him turn the tide?
It is difficult to see how. You cannot change the mood of farmers in two crop seasons -- there's just one kharif and rabi left before May 2019 now. You cannot roll out a hospitalisation insurance scheme of the dimensions the budget just unveiled. You can't make rural India suddenly feel so much better with Rs 1 trillion in a year. You cannot even set up those two defence manufacturing corridors in a year. Many of these ideas should have come in the government's first year.
Urban voters, on the other hand, have mostly bad news in the Budget. Like governments in the past, this one has also squeezed the same tax-payers. Cess has gone higher, a long-term capital gains tax has come above the securities transaction tax which was imposed on the promise that it was neat and simple and long-term capital gains tax won't be needed any more.
The best thing about the Budget is that however unspectacular it may be on the "dream" side, it isn't irresponsible as an unexpectedly stressed government in its last year may have been tempted to present, spilling over with freebies and populism. It is, by and large, a responsible Budget.
Truly bad, but potentially popular ideas, which could have been used to fire the imagination of the poor again by seeming to hurt the rich, as demonetisation was, have been avoided. The worst of these, floating in the "hawa", was the return of the inheritance tax. It is possible that the Modi government realised that it couldn't afford to give the economy a third shock (after demonetisation and GST) and that too without preparing it for it.
It hasn't come at least this year, but don't be surprised if it pops up as an election promise. Remember, in our political system, nobody can stop a bad idea whose time has come.
But at least for this financial year, and may be next, we have escaped that calamity.