When Dwight Yorke left Birmingham City and the English Premier League for Australia just over a year ago, he must have thought he was saying goodbye to top-class soccer for good.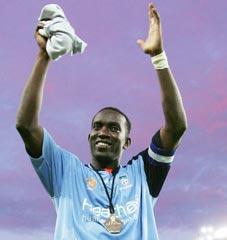 The game has a peculiar way of turning expectations upside down, however, and Yorke now finds himself poised to play on the biggest stage of all for Trinidad & Tobago in the World Cup finals -- and against England, where he spent more than 16 years of his career.
Yorke was always a big-match player and he will no doubt relish a final chance to dazzle a global audience with some of his silky skills in front of goal.
The legs do not move as quickly as they did when he played for Aston Villa, Manchester United in his prime or Blackburn Rovers and Birmingham City in his later years in England.
His reflexes, though, are still lightning fast and he still has an eye for a goal as he proved recently when Trinidad & Tobago beat Iceland 2-0 in a friendly in London.
His first goal recalled his glory days, as he controlled a cross with one swift movement and crashed it into the back of the net with the next. He also chipped the goalkeeper from the penalty spot later in the game. His trademark grin lit up a freezing, wintry Loftus Road.
SECOND CHANCE
Yorke was discovered playing in Tobago by former England and Aston Villa manager Graham Taylor and he joined Villa in 1989, making his first-team debut the following year.
It was a move that changed his life, a life that could have ended when he was just two in 1973 and had a miraculous escape after being hit by a speeding car in his hometown of Canaan.
He was carried on the bonnet for 100 metres before bouncing off and spent three months in hospital recovering from his injuries.
"Being given a second chance at life has affected the way I live," he said. "I live for the day."
His days at Villa were followed by his glory years at Manchester United where he struck up a great scoring partnership with Andy Cole and played a major part in United's treble success in 1999, including the Champions League final against Bayern Munich in Barcelona.
He has a glittering haul of trophies and honours from his Old Trafford days which ended with a move to Blackburn Rovers when Ruud Van Nistelrooy arrived in Manchester.
He retired from the international side around the same time but came out of retirement last year to spearhead Trinidad & Tobago's late charge to the World Cup.
He now has 15 goals for his country in 51 appearances and would love to add to that total next month.
He has maintained his fitness since the end of the Australian season by training back at Manchester United with his old Scottish boss Alex Ferguson, who naturally would love to see him do well against the English in Nuremberg on June 15.