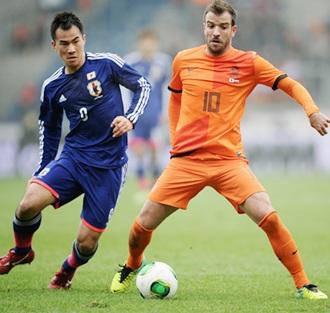 Netherlands may be among the favourites to win the World Cup but they suffered a scare on Saturday when they narrowly avoided defeat by Japan in their first match since completing qualification for next year's finals.
The two Brazil-bound countries drew 2-2 on neutral turf in Genk, Belgium but it was Japan who emerged with the moral victory after coming back from two goals down to force a draw and they were even unlucky not to win.
"In the end we got away with a fright," said playmaker Rafael van der Vaart, whose early goal at the Cristal Arena suggested the Dutch would romp to victory although it turned out to be anything but an easy ride.
"In the second half it went really bad," the experienced Germany-based midfielder told reporters. "It's a pity but it goes like that every now and then.
"On the basis of the second half maybe Japan deserved a win. I think it's a team that is perhaps a little underestimated but they have a few top players who really know how to play."
Netherlands coach Louis van Gaal said his team needed to "put a plaster over the wound and move forward", suggesting the performance in the friendly was best forgotten.
"We allowed Japan back into the game and that was unnecessary," he told Dutch television SBS6.
Netherlands were without captain Robin van Persie, who was rested after recent knocks, but they had many of their regulars on show.
The Dutch next have a friendly against Colombia in Amsterdam on Tuesday before Japan play Belgium in Brussels later that day.
Image: Rafael van der Vaart of Netherlands
Photograph: Dennis Grombkowski/Getty Images