Asian Games gold medalist and youth Olympics bronze medalist Vikas Krishan (69 kgs) stunned seventh seeded Nurudzinov Mahamed of Belarus to storm into the pre-quarter finals of the AIBA World Boxing Championships in progress at Baku.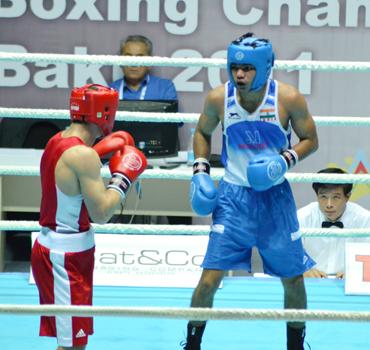 The fact that the bout was evenly matched can be gauged from the round scores which were equal throughout. Although Vikas had the upper hand in round 1, the score read 2:2.
In round 2 both boxers scored valid scoring blows and although Nurudzinov notched up valuable points in the beginning, it was Vikas who finished with quite a few telling blows on his opponent towards the end of the round and the score was 8:8.
There were quite a few anxious moments for the Indian Camp as the Referee gave couple of cautions to Vikas for raising his fists to demonstrate that he had landed a punch (in the manner that Mohammed Ali Qamar did in the finals of Commonwealth Games Manchester 2002).
In round 3, Vikas managed to score uppercuts and body blows while Nurudzinov also returned the compliment and the round ended with a tied score of 10:10. It was an agonizingly anxious wait for the result to be announced and it happened to be in Vikas favor on an individual Judges count back score of 32:31.
When the Referee finally raised Vikas's hand as the Winner, he dropped down on his knees in sheer elation and a thanksgiving to god almighty for having saved the day for him.
He now meets Sipal Onder of Turkey who defeated  Kvachatadze Zaal of Georgia in the Pre quarter Finals on 04 Oct.