Teen sensation Vikas Krishan, who ended India's 12-year-old wait for a boxing gold at the Asian Games, on Tuesday said he never expected to clinch the yellow metal considering he was competing in his first international event at the senior level.
The 18-year-old Haryana-boxer beat defending champion Qing Hu of China in a tense 60kg final bout a day before Vijender Singh (75kg) gave India the second Asiad gold in boxing.
The bout tested Vikas' temperament as much as his boxing skills.
"Gold was always going to be tough. I thought I would do well for myself but that I would get a gold was not what I had expected. I can't tell you how happy I am," Vikas said.
Asked how he managed to hold his nerves in the final, Vikas said, "I just told myself, I am the youngest member of the team. If I win it will be good but if I lose, no one is going to complain either because I am not experienced."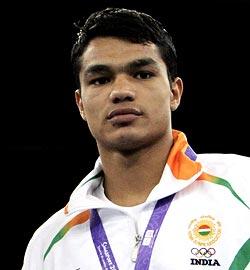 The lanky teenager took below-the-waistline blows during the ill-tempered bout and was even called a "good actor" by his bitter rival outside the ring.
He shrugged it off with a smile and said, "I told him that actors lose but real boxers don't. I have beaten you so I am real."
"I knew he is the defending champion and it would be tough against him. It was tougher then what I thought," he recalled.
Vikas' was India's first Asiad boxing gold after 1998, when Dingko Singh finished on top.
"I idolise Dingko. I have seen his 1998 final bout so many times. He is an inspiration and a class boxer," Vikas said.
At a felicitation function organised by the Indian Boxing Federation, Vikas got a feel of the adulation that comes with international medals in boxing these days.
"It feels nice. Who doesn't want to be recognised?" asked the boxer, who was in school until last year.
His gold medal fetched him Rs 75,000 while silver-medallists Dinesh Kumar (81kg), V Santhosh (64kg) and Manpreet Singh (91kg) and bronze-medallists Paramjeet Samota (+91kg) and Suranjoy Singh (52kg) were handed cheques of Rs 50,000 and Rs 25,000 respectively.
Women boxers -- M C Mary Kom and Kavita Goyat -- who won bronze medals at the Asiad were conspicuous by their absence from the event.
The federation claimed that the duo didn't turn up despite being invited as they were in a rush to go back to their home states.
"They were invited but didn't come because they wanted to go home," he said.
The IBF also revealed that the scoring system for international events is set to be changed.
"From now on all individual scores given by five judges would be added and a mean would be taken which would be displayed only at the end of the round. Their would be no live updates on the scoreboard. This is being done to ensure that boxers don't use overtly defensive tactics and use punches other then straights to get points," IBF Secretary General P K Muralidharan Raja said.
"We will be holding clinics soon to educate boxers and coaches about the system," he added.
The IBF is also looking to get new foreign coaches on board for both the men and women's teams.
"We are aiming for somebody from Ireland, England, USA or even Canada. Not Cuba because communication becomes a problem," he said.
While the women's team does not have a foreign coach at the moment, the men's team has Cuban B I Fernandes, whose contract has expired.