Triple jumper Renjith Maheswary flopped yet again in a big event, failing to qualify for the final at the World Athletics Championships in Moscow on Friday.
It marked a disappointing end to India's campaign in the meet, as Maheswary finished sixth in Group A in the qualification round and 13th overall with a best jump of 16.63 metres, which was well short of his National record of 17.07m and season's best of 16.98m.
Those who cleared 17.05m, or had the 12 best performances, qualified for the final round.
The last qualifier, Gaetan Saku Bafuanga Baya of France, also cleared 16.63m but made it to the final on count back, as his second best jump (16.37m) was better than that of Maheswary's 16.28m.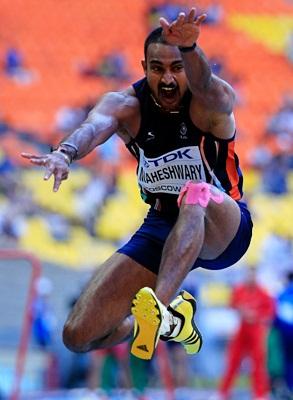 Maheswary, who was recommended for this year's Arjuna award, has been criticised as a choker in big events, having returned without any marks in the 2011 World Athletics Championships in Daegu, Japan, and the 2012 London Olympics.
On Friday, his attempts were all legal, but he was nowhere near his best, having begun with a disappointing 16.08m and 16.63m in his second attempt before a 16.28m in his last jump.
Teddy Tamgho of France was the lead jumper, with 17.41m, going into the final round.
In the women's 4x400m relay, the Indian quartet also failed to qualify for the final round as they finished last in the five-team heat number one and 14th overall.
The quartet of Nirmala, Tintu Luka, Anu Mariam Jose and M R Povamma, which had won gold in the Asian Championships in Pune last month, clocked a below-par 3:38.81 seconds in their heat. The gold-winning effort in Pune was 3:32.26 seconds.
Only the first two in each of the three heats and the next two fastest qualify for the final round.
Ashwini Akkunji, who made it to the six-member squad just days after ending her two-year period for a doping offence, did not run in the race.
The Russian quartet topped the timings with 3:23.51s, followed by the United States (3:25.18s) and Great Britain (3:25.39s).
India sent 15 athletes in the World Championships, but none of them came up with anything noteworthy.
Discus thrower Vikas Gowda finished seventh, while Khusbir Kaur was 39th in the women's 20km walk, though she created a National record in the process.
Sudha Singh failed to qualify for the women's 3000m steeplechase final round after finishing 23rd overall in the heats.
In the men's 20km walk, Gurmeet Singh and Chandan Singh finished 33rd and 34th respectively while National record holder K T Irfan was disqualified after being sixth at the halfway mark of the race.
Basanta Bahadur Rana finished 33rd while Sandeep Kumar was disqualified for rule violations in the men's 50km walk.
Image: Renjith Maheswary
Photograph: Jamie Squire/Getty Images