Double defending champion Trey Hardee was dumped out of the decathlon on the opening day of the world championships on Saturday as he no-heighted in a dramatic high-jump competition.
- World Athletics: Complete coverage
Hardee, who triumphed in Berlin and Daegu and took Olympic silver last year, was looking off the pace on the opening morning and went into the high jump, the fourth discipline, in fifth place.
With a personal best of 1.99 metres it is among his weaker events but it was still a shock to see him fail three times at 1.90.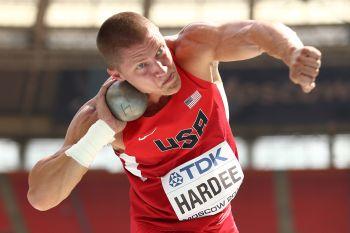 Fellow American and Olympic champion Ashton Eaton led after three events but managed only 1.99 to slip back to third.
His 20-year-old compatriot Gunnar Nixon, who earlier posted a personal best long jump of 7.80 metres, had the best clearance with 2.14 to take the overall lead on 3,611 points.
Germany's Michael Schrader was second on 3,501 with Eaton 3,495
There was further bad news for the Americans when Jeremy Taiwo had to pull out with a knee injury after the shot put.
Image: Trey Hardee
Photograph: Cameron Spencer/Getty Images