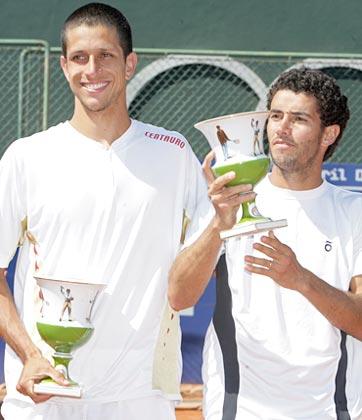 Brazil's Marcelo Melo and Andre Sa found a place in Wimbledon's record books after beating Paul Hanley and Kevin Ullyett in a second round men's doubles match on Wednesday.
Their 5-7, 7-6 (7/4), 4-6, 7-6 (9/7), 28-26 victory set a new men's doubles record in terms of games played and most games played in the deciding set.
The match lasted 5 hours and 58 minutes, 11 minutes short of the longest ever match at the championships, which is 6 hours 9 minutes.
That record was set in 2006, when Mark Knowles and Daniel Nestor beat Simon Aspelin and Todd Perry in the quarter-finals.
The match, which started on Saturday and required four days in all, resumed on Wednesday with Australian Hanley and Ullyett of Zimbabwe, leading 14-13 in the final set.
In sum, 102 games were played in the match, a figure which beat the previous record, set in 1966. In terms of games played (54), the fifth set was also the longest in Wimbledon history.
The previous record for the most number of games in a Wimbledon men's doubles match was 98, set in 1966, when Eugene Scott and Niki Pilic defeated Cliff Richey and Torben Ulrich 19-21, 12-10, 6-4, 4-6, 9-7.
The previous record for the longest fifth set at Wimbledon was 24-22, set in 1985, when Heinz Gunthardt and Balazs Taroczy defeated Paul Annacone and Christo Van Rensburg 6-4, 2-6, 6-4, 6-7, 24-22.
Image: Marcelo Melo and Andre Sa of Brasil display their trophies after winning the final against Martin Garcia and Sebastian Prieto of Argentina, at the Estoril Open in Lisbon on May 6, 2007.
Photograph: Pedro Zenkl/AFP/Getty Images