Lightning struck twice for Rafael Nadal at Wimbledon as the Spanish 12-times Grand Slam champion suffered a shock first-round defeat by Belgian outsider Steve Darcis on Monday.

A year after losing to Czech Lukas Rosol in the second round, Nadal was outplayed by the 135th-ranked Darcis on Court One, losing 7-6(4), 7-6(8), 6-4 in front of a disbelieving crowd.

Fifth seed Nadal, who had never lost in the first round of a Grand Slam tournament before, appeared to be struggling physically at times but refused to make excuses.
- Wimbledon: PHOTOS from Day 1

"I tried my best out there in every moment. It was not possible for me," Nadal, playing on grass for the first time this season, told a news conference. "It is not a tragedy."

Nadal, who spent seven months out of action with a knee injury after last year's Wimbledon defeat, served for the second set but Darcis hit back to move two sets in front.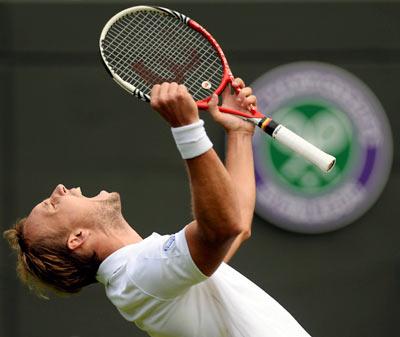 Asked if his knee had been giving him problems, Nadal said: "I don't want to talk about my knee this afternoon. Anything that I would say today about my knee would be an excuse. The only thing I can say is to congratulate Steve Darcis."

As the clock crept towards three hours on court, Nadal's touch deserted him completely and he turned his back on the court, grimacing, after failing to cash in a breakpoint in the eighth game and hitting a feeble forehand into the net.

DARCIS' DELIGHT

As he served for the match at 5-4, Darcis, sensing blood, put himself ahead with a superb running forehand after chasing the ball across court. Finding himself right in front of the press photographers, he obligingly pumped his fist and roared with delight.

Another Nadal forehand error gave Darcis matchpoint and he finished off the biggest win of his career with an ace.

"Rafa did not play his best match here, it is hard when it is your first match on grass," said Darcis, a no-nonsense player who trudged out from every changeover with his towel clenched between his teeth and his head bowed in thought.

"I just wanted to play my own game, coming to the net and not playing far from the baseline.

"I have always played well on grass, perhaps not here where I have had some tough draws, but I am really happy. I do not know what to say."

Darcis, who faces Lukasz Kubot of Poland in the next round, was the lowest-ranked player to beat Nadal for seven years, since Joachim Johansson, the world number 690, in Stockholm.

The 27-year-old Spaniard became the first reigning French Open champion to lose in the first round of Wimbledon since Brazil's Gustavo Kuerten suffered the same fate in 1997.

Nadal's fifth seeding, in line with his current ranking, had put him in the potential path of champion Roger Federer and home favourite Andy Murray, who will both be relieved to have the chance of profiting from his early exit.
Photograph: Mike Hewitt/Getty Images