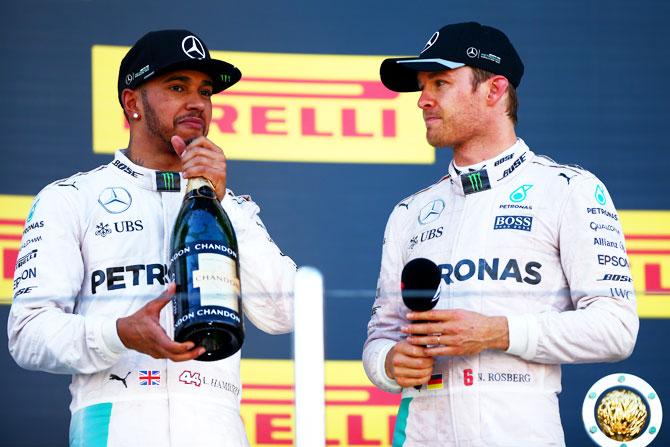 IMAGE: Mercedes GP teammates Nico Rosberg (right) and Lewis Hamilton. Photograph: Dan Istitene/Getty Images.
Reigning world champion Lewis Hamilton has insisted that he would "take it like a man" if he loses the title to his Mercedes team-mate Nico Rosberg.

Hamilton is 33 points behind the German with only 100 still available in the remaining four races, starting with the US Grand Prix at the Circuit of the Americas on Sunday.

"I will try and take it like a man. You can't win them all. Look at all the world champions in the past that have won championships and lost championships," the Guardian quoted Hamilton as saying.

"It is part of the game. I am in the position right now where there is still a lot of points available so I will give it everything I've got. I still have the belief that anything is possible. Then I will move on. Once it has been decided, and it has happened, all I can do is shape the future which is the next year. So, I will move on and go into the next season and hopefully come back stronger," he added.

The 31-year-old racer has always been positive about his chances of retaining his world title.

However, it might be worthy to know that Hamilton can still lose the F1 crown if Rosberg finishes with three second places and a third in the remaining races.

"I don't look back. There is no point looking back. There are four races but I have still got some time here in my career for better days. I am obviously aware that you can't always win races and it is a long old season. Nobody is perfect, but all I can do is work as hard as I can with the team," Hamilton said.