Three England fans were treated in hospital on Sunday night after a fight on a cafe terrace with a group of Ukrainians in Kiev ahead of Tuesday's World Cup qualifier, police said.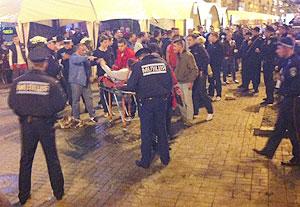 The fight, involving 40 English fans and more than 20 Ukrainians, broke out after the two sides traded insults, police said.
"Three British citizens ... were taken to hospital with wounds to the head and hands. After getting medical treatment they were taken back to their accommodation," it said.
England top Group H with 15 points, ahead of Montenegro on goal difference. Ukraine sit third with 14 points.
Image: A photo, taken with a mobile phone, shows an injured English soccer fan lying on a stretcher and surrounded by medical personnel, police and other people in central Kiev on Sunday. Three English soccer fans, who arrived to attend the 2014 World Cup qualifying soccer match against Ukraine, were injured late on Sunday in a brawl with Ukrainian supporters in Kiev, according to local media
Photograph: Alexander Fedchenko/Komsomolskaya Pravda in Ukraine/Reuters