Argentina and Inter Milan midfielder Juan Sebastian Veron said he appeared in the film in which his former Parma team mate Fabio Cannavaro is seen using a drip on the eve of the 1999 UEFA Cup final.
"You can see me, I was in the room," Veron told an Argentine radio station. "But you can't see that I did anything."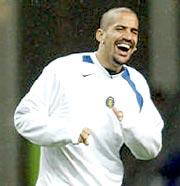 The film, shown on Italian state broadcaster RAI Due's current affairs programme "Full Stop and From the Top", shows Cannavaro, then a Parma player, relaxing in his hotel room the evening before the UEFA Cup final against Olympique Marseille in Moscow which the Italian club won 3-0.
The Italian international, who now plays for Juventus, is shown inserting a drip into his arm which his lawyer confirmed contained Neoton, a drug used in cardiac surgery to protect the heart that is not on the World Anti Doping Agency's list of banned substances.
Veron
said Neoton use is common. "It's used when there are a lot of matches in a short space of time and it helps you recover more quickly," he said.
"We had just played the final of the Italian Cup, I think it was two or three days earlier, plus there was the journey to Russia. Some players decided to make use of this, which is also something the doctor knows about."
Veron, who is now on the books of English premier league side Chelsea but has been on loan to Inter Milan all season, added: "All the teams use it.
"It is something that is used and has been used and to do so is firstly a decision of the player and then the doctor."
He said the video did not make pleasant viewing.
"It doesn't look good because you see when the doctor pricks his arm and it's not something which is nice to see. Also, the television puts on that background music and a whole ambiance which has nothing to do with it."