Usain Bolt made it three out of three as he helped Jamaica claim gold in the 4x100 metres relay at the World championships on Saturday in the second-fastest time ever run.
Their victory in 37.31 seconds was bettered only by their winning time of 37.10 at last year's Beijing Olympics.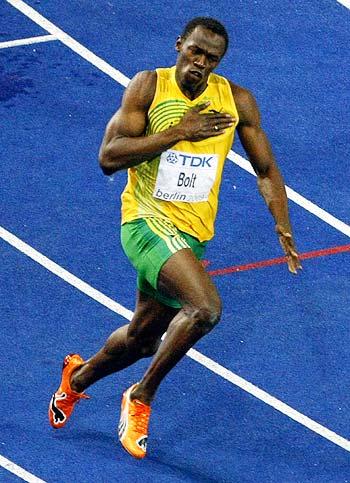 It completed another great night for the Jamaican sprinters after the women won the 4x100 gold and both 4x400 teams qualified for Sunday's final.

A full house at the Olympic Stadium also had a world record to cheer as Poland's Anita Wlodarczyk hurled the hammer 77.96 metres to break Russian Tatyana Lysenko's three-year-old mark of 77.80.

It might not have attracted the same publicity as Bolt's heroics in the 100 and 200 but it earned a gold medal and the same $100,000 cheque.

There were Kenyan one-twos in the men's marathon and women's 5,000 metres.

Abel Kirui won the morning marathon in a championship record two hours 06 minutes and 54 seconds with Emmanuel Mutai taking silver and Ethiopia's Tsegay Kebede claiming bronze.

Vivian Cheruiyot, silver medallist in 2007, won a tactical 5,000 by storming down the final straight to finish in 14:57.97 with Sylvia Kibet snatching second from Ethiopian favourite Meseret Defar.

American Dwight Phillips won the long jump with a mark of 8.54 metres while injured Australian Olympic champion Steve Hooker claimed the pole vault gold with just one successful attempt at 5.90 metres.

US ABSENT

With the United States disqualified from the 4x100 relay after Friday's semi-finals, Jamaica merely had to get the baton round safely to secure gold.

Time-served doper Steve Mullings led them off, Michael Frater ran a solid back straight and Bolt took command on the bend. He ensured a safe handover to Asafa Powell and the individual bronze medallist roared home.

Bolt is now triple world and Olympic champion, five of the titles achieved

with world records.

He said his tiredness was to blame for Jamaica's narrow failure to break their world record but described winning three world golds as wonderful.

"I'm proud of myself and the relay is always fun, much better than running alone," he said.

Asked if he was a legend, he added. "I don't think so. Year after year I have to become champion and champion again."

Trinidad & Tobago took silver in 37.62, a time only ever bettered by Jamaica and the U.S., while Britain won bronze in 38.02.

SIMILAR STORY

It was a similar story in the women's event after the U.S. went out in the semi-finals when they dropped the baton.

World and Olympic 100 champion Shelly-Ann Fraser took Jamaica clear after the second leg and 100 silver medallist here Kerron Stewart brought them home in 42.06.

Bahamas took silver and Germany a crowd-pleasing bronze.

In the men's 4x400 relay, the United States fared much better. They rested individual gold and silver medallists LaShawn Merritt and Jeremy Wariner but still qualified fastest for Sunday's final.

Poland continued their good run at the championships with Wlodarczyk's stunning hammer gold.

After her world record throw on the second attempt she passed with her next three but then had a real scare when Germany's Betty Heidler launched a last-round monster that measured 77.12 -- good enough for silver.

Long jump winner Phillips, like all the American team, had JO stitched into his vest in honour of Jesse Owens.

In an emotional ceremony, medals were presented by Marlene Hemphill Dortch, Owens' granddaughter, and Kai Long, son of Owens' German long jump friend and rival Luz Long at the 1936 Olympics here.

Sunday, the final day of action, features the women's marathon in the morning then seven finals squeezed into a two-hour evening session, where the men's 5,000 and 800, women's 1,500 and both 4x400 relays should be the highlights.