Serena Williams, brimming with confidence and self-belief with every match she plays, stormed into the semi-finals of the US Open on Wednesday with a 6-1, 6-3 demolition of Ana Ivanovic.
The last American left in the tournament after Andy Roddick was sent into retirement by Juan Martin del Potro, Williams was at her irresistible best and steamrolled Serbian Ivanovic in less than an hour.
Williams has won the US Open three times and made the semi-finals in each of her last four appearances at Flushing Meadows but has not lifted the trophy since 2008.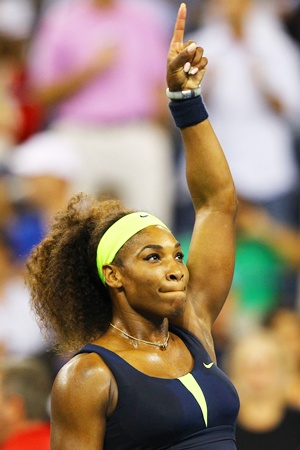 She has been in great form over the past few months, clinching her 14th grand slam title at Wimbledon then winning the singles and doubles gold medals at the London Olympics.
By her own standards, she made a slow start to the US Open but said she was hitting her peak at the right time.
"I feel like I'm going to get more focused and serious and start playing Serena tennis in the next couple of rounds, if I get to play two rounds. That's my goal," she said.
"I didn't think I came into this tournament playing my best, but I definitely played better in the last two matches."
Williams plays Italian Sara Errani in Friday's semi-finals, a player she has beaten in each of their three previous meetings, with the winner to face Maria Sharapova or Victoria Azarenka in the final.
"She (Errani) is playing well," said Williams. "She made the final at Roland Garros and now semis here, potential finals, so I can't underestimate her.
"It's not by luck she's been doing so well. We will have to see."
Former world number one Ivanovic was appearing in her first grand slam quarter-final since winning the French Open in 2008. She conceded Williams had been too strong but said she was buoyed by her own improved performance.
"Overall I'm very satisfied. I played some really good tennis to get into this position," she said. "Even tonight I felt like I was striking the ball so nicely on both sides.
"That's something that I worked hard for. I think it's a big step for me to reach quarter-final. It's a confidence boost."
Photograph: Alex Trautwig/Getty Images