'Until I was on the pitch in the second half, I didn't think about football'
'I encouraged everyone to take the game seriously but football is not the most important thing in the world'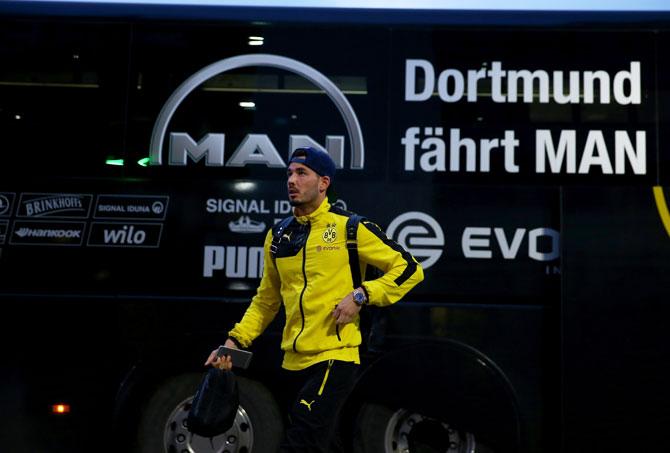 IMAGE: Dortmund's Nuri Sahin spoke his heart in an emotional interview after the Champions League match against AS Monaco on Monday. Photograph: Christof Koepsel/Getty Images For MAN
They lost the game, but realised there is more to life than soccer.
Just a day after an explosives attack on their team bus, Borussia Dortmund's frustration at losing 2-3 to AS Monaco in their postponed Champions League clash was eclipsed by their players' relief at being alive.
Dortmund midfielder Nuri Sahin, who came on as a second-half substitute, said the incident had put football into perspective.
"We love football, we suffer with football and I know we earn a lot of money, and we have a privileged life, but we are human beings and there is so much more than football in this world...and last night we felt it," he said.
"I don't know if the people can understand this but, until I was on the pitch in the second half, I didn't think about football.
"Last night, I didn't realise what happened until my wife and son were waiting in front of the door and there I felt how lucky we were," he recalled.
"I get goosebumps," Sahin said after Wednesday's match.
Earlier, German authorities arrested a suspected Islamist in connection with what Chancellor Angela Merkel called the "despicable" attack on the bus, in which three explosions went off as the Dortmund players made their way to the stadium.
"When we were in the bus last night, I can't forget the faces," said Sahin, speaking English to the Viasat Football broadcasting network.
"I will never forget these faces."
Spanish defender Marc Bartra, injured in the attack, said he was "doing much better" after surgery on his wrist. His teammates wore shirts bearing his picture during their warm-up for the match, which turned out to be a pulsating encounter.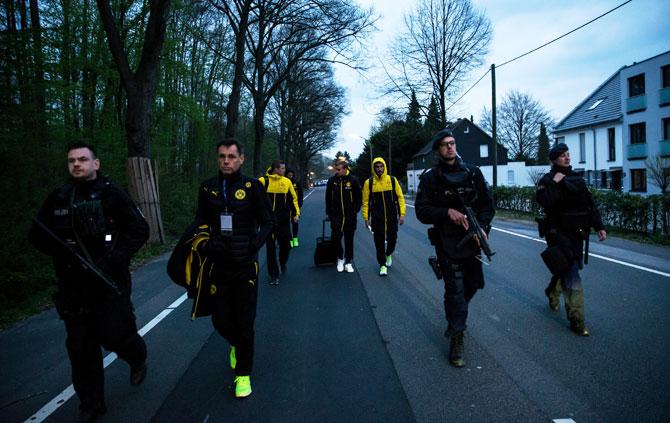 IMAGE: (Left-Right) Borussia Dortmund's Sven Bender, Marcel Schmelzer and Nuri Sahin are escorted to a car by police after the team bus of the Borussia Dortmund was damaged in an explosion in Dortmund, Germany, on Tuesday. Photograph: Maja Hitij/Getty Images
Police, who banned backpacks from the Dortmund stadium, stepped up security for the rescheduled match and for a second Champions League quarter-final between Bayern Munich and Real Madrid.
An exit from the Dortmund stadium was briefly closed as police examined suspicious packages, but quickly re-opened.
Dortmund coach Thomas Tuchel said his team would have liked more time to take stock after the attack and felt ignored by the soccer authorities after being made to play less than 24 hours later.
"I encouraged everyone to take the game seriously but football is not the most important thing in the world," he said.
Merkel, who takes a keen interest in the fortunes of Germany's national soccer team, earlier praised Dortmund fans for taking in AS Monaco supporters overnight so they could stay on for the postponed match.
Some fans of AS Monaco, which neighbours the southern French city of Nice where 86 people were killed in an Islamist attack last summer, were more relaxed than Dortmund supporters.
"In France, we know this," said Monaco supporter Pierre Calmon, 50, from Toulouse, who was attending the match with his son, 16-year-old Thomas.
"We are pleased to spend another day in Germany."