Dominant Brazil made a strong statement with a 2-1 victory over Spain while debutants Niger were off to winning start in the FIFA Under-17 World Cup on Saturday.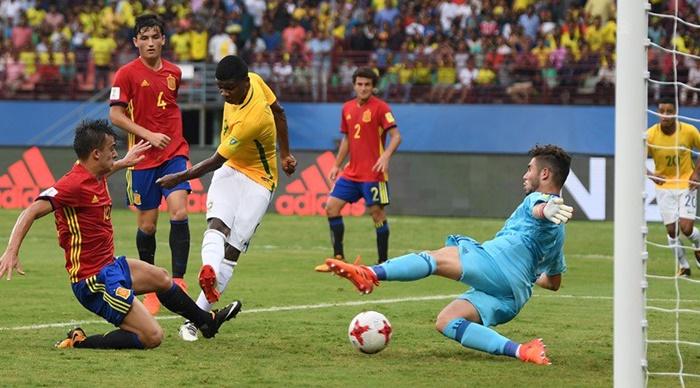 IMAGE: Brazil's Lincoln scores against Spain. Photograph: FIFA/Twitter
A dominant Brazil made a strong statement of their top title contender status with a 2-1 victory over Spain in a Group D marquee clash of the FIFA U-17 World Cup, in Kochi, on Saturday.
In a much-anticipated encounter in front of a sell-out crowd, Spain made a flying start and took the lead in the fifth minute through an own goal by Brazil defender Wesley, but soon lost the plot as the Brazilians turned the table on them.
Brazil, the overwhelming favourites of the packed stadium, took control of the match just after conceding the goal with far more possession and attacking. They scored through Lincoln (25th minute) and Paulinho (45+1).
The absence of Vinicius Junior was not felt as Brazil's attacking trio of Lincoln, Paulinho and Brenner played better than their Spanish counterparts. Alan and Marcos Antonio gave the trio enough support.
Spain, who had five players from the famous La Masia academy and four from Real Madrid academy, were hit hard by the high humidity of Kochi while the Brazilians were able to cope with the situation as they had been in India for more than 10 days.
The fast-paced and open match between the champion sides of South America and Europe initially promised to be a goal fest but it was not to be. The neat exchange of passes, swift movement in attack and counter-attack were all there to see, though.
Spain did better in the second session and pressed hard for the equaliser, but Brazil defence stood firm.
It was end-to-end action in most part of the second session. Spain looked for goals but Brazil hit them on the counter at will.
Marcos Antonio took on his marker and beat him for pace on one such opportunity, but his cross for Paulinho in the middle was cut out by the Spanish goalkeeper.
Germany defeat Costa Rica 2-1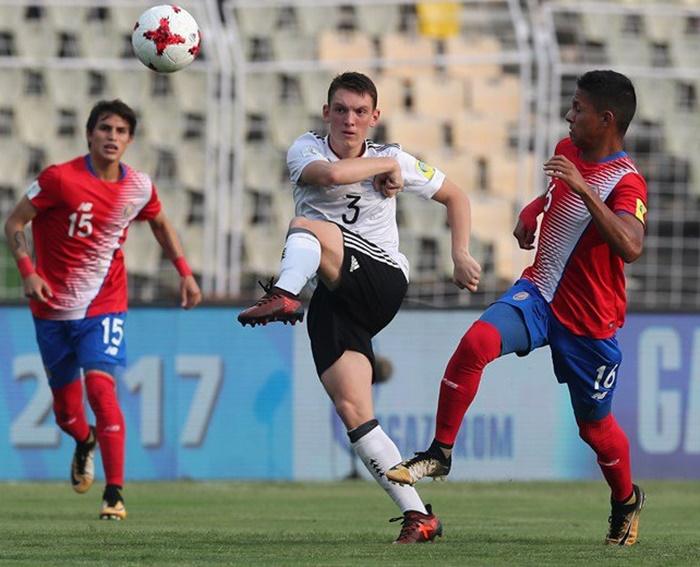 IMAGE: Germany could have won by a bigger margin had it not been for some erratic shots. Photograph: FIFA/Twitter
A late goal by substitute Noah Awuku lifted Germany to a 2-1 win over Costa Rica in their opening match of the FIFA U-17 World Cup in Margao.
Germany were more organised in attack and dominated play in halves, creating quite a few scoring opportunities. The European heavyweights scored through Jan-Fiete Arp (21st minute) and Awuku (89th).
They could have won by a bigger margin had it not been for some erratic shots in front of the goal.
Costa Rica, who defended for the major part of the game, pulled one back in the 64th minute through Andres Gomez.
Costa Rica showed promise in the initial stages and came up with a couple of dangerous moves. Germany nearly conceded a goal when goalkeeper Luca Plogmann failed to clear a back pass in the fourth minute.
Iran beat 10-man Guinea 3-1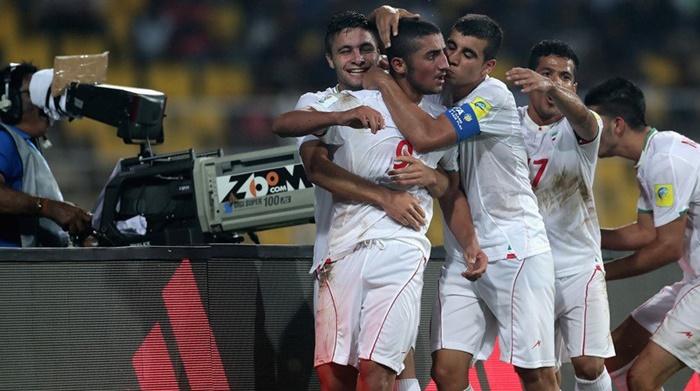 IMAGE: Iran players celebrate. Photograph: FIFA/Twitter
Iran kicked off their campaign in the FIFA U-17 World Cup with a 3-1 drubbing of Guinea in a Group C encounter at the Nehru stadium in Margao.
Defensive in the first half, Iran latched on to the chances that came their way, and score through Allahyar Sayyad (59th minute), Mohammed Sharifi (70th) and substitute Karimi Saeid (90th) to gain full points from their opening game of the tournament.
Guinea got a consolation goal when Fandje Toure found the back of the net in the first minute of injury time.
Playing with 10 men for more than 20 minutes in the second half, Guinea dominated proceedings for a major part of the game and have themselves to blame for the defeat. They failed to convert the opportunities that came their way into goals, with Fandje twice failing to score after coming close.
Both teams failed to entertain the crowd due during a lacklustre first half. Guinea had more possession but lacked firepower, and Iran's defence was always up to the task.
Debutants Niger off to winning start, beat North Korea 1-0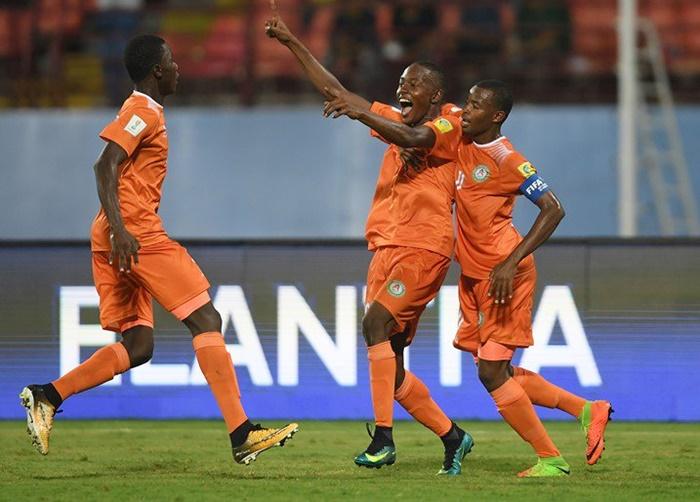 IMAGE: Salim Abdourahmane, centre, celebrates. Photograph: FIFA/Twitter
Debutants Niger got their campaign off to a positive start as they eked out a 1-0 win over North Korea in a Group D match of the FIFA U-17 World Cup in Kochi.
Playing in their first-ever World Cup game, Salim Abdourahmane scored what turned out to be the winner, in the 59th minute, off an assist by Habibou Sofiane at the Jawaharlal Nehru Stadium.
Niger started on an attacking note but Ibrahim Boubacar's right-footed shot from the right side of the box was saved by the Korean backline.
A minute later, in the 10th minute, there was another missed attempt as Habibou Sofiane's long-ranger from the left did not find the target.
Niger's Djibrilla Ibrahim was shown a yellow card for a foul. On and off, Korea created chances but failed to threaten the Niger defence.