Indian tennis ace Leander Paes said that the thought of winning a doubles medal in Olympics is close to his heart and he wants to fulfil the wish.
"I would say to win a doubles medal in Olympics, this is close to my heart. I am looking forward to get a good partner. Another one I would say is to win a career grand slam in mixed doubles," Paes said after featuring in an exhibition match at Chandigarh Lawn Tennis Association (CLTA) stadium in Chandigarh.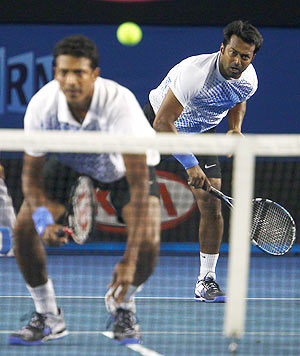 Paes, who along with CLTA Chairman Rajan Kashyap addressed the news conference, was asked if he still has any wish that has not been fulfilled yet.
Paes, whose father Dr Vece Paes was also present, said while cricket was definitely like a religion in India, over the years tennis has also grown in popularity.
"I think we need to open more professional tennis academies like the DLTA in Delhi. We are also trying to start one in Mumbai, where I live," the senior Paes said.
Asked about the upcoming London Olympics, Paes said he was hoping to get a good partner to win a medal in the doubles.
"I do have a preference, but some conversations have to be private," he said when asked if he had a specific partner in mind.
Commenting on the Indian tennis scene, Paes said it has a great future and apart from him and Mahesh Bhupathi and Sania Mirza, there was promising talent coming up.
He heaped praise on players like Somdev Dev Varman and Yuki Bhambri.
"Indian tennis at the moment has a great mix of age and experience. It's good time that young ones are developed (in singles)."
Photograph: Julian Finney/Getty Images