Leander Paes and Radek Stepanek upset second seeds Daniel Nestor of Canada and Max Mirnyi of Belarus to win the Sony Ericsson Open in Miami on Saturday.
The newly-formed Indo-Czech pair needed 82 minutes to prevail 3-6, 6-1, 10-8.
Paes-Stepanek, the Australian Open champions, had beaten Nestor-Mirnyi side in the semi-finals of the Melbourne event too.
Having beaten the Bryan twins, Bob and Mike, in the previous round, Paes and Stepanek were on a high, but failed to get the early momentum going. However, once they settled down after being broken twice in the first set, there was little Nestor and Mirnyi could do to contain them.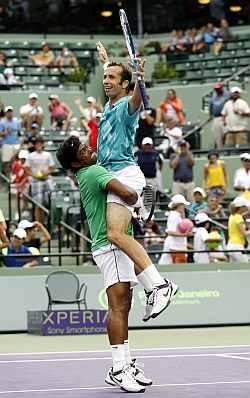 Two breaks of serve saw them take the second set in quick time and force the match into the decisive tie-breaker.
Nestor-Mirnyi raced away to a 4-1 lead in the tie-break, but Paes-Stepanek rattled off six points in a row to forge ahead 7-4, before Paes scored with a delectable volley to clinch victory.
The 38-year-old Paes, who will be going for his sixth Olympics in London later this year, thus won his third straight title in Miami, having triumphed with Lukas Dlouhy in 2010 and Mahesh Bhupathi in 2011, also became the 24th player to accomplish 50 doubles titles on the ATP World Tour.
The Indian-Czech duo had captured their first Grand Slam team title at the Australian Open, defeating three-time defending champions the Bryan twins.
"Well, actually Radek came to me and said something simple on my service return (in the second set) and that changed the whole momentum of the match. I have got to give full credit to Daniel and Max, they started out amazingly, they were all over us in the first set," a jubilant Paes said after the triumph.
"Over all these years of playing, I have got to thank many partners, I have got to thank many coaches… I have to thank my father but most importantly my wonderful partner right now, Radek Stepanek.
"(It's) really, really special. 50 tournaments takes a little doing. 600 matches takes a little bit of doing," said Paes.
"Having done a three peat here in Miami is awesome. Next year, I hope to start another one."
An equally elated Stepanek said he felt honoured to team up with Paes.
"We fought through it, and we got on top of them in the second set all the way," said Stepanek.
"We (were) the more aggressive, and, I would say, creative team in the Tie-break, as well. That's why we won. I am thankful to Lee for playing with me. It's an honour to play with a legend," he added.
Photograph: Kevin Lamarque/Reuters