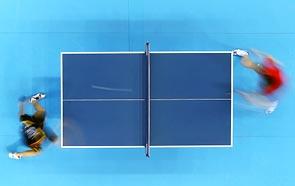 Paddlers from across the border will not be participating in the upcoming Commonwealth Table Tennis Championships in New Delhi, as the Indian authorities have not granted visas to the Pakistani squad for the tournament, starting on May 5.
"We had requested permission for the all the countries who had shown interest in participating in the competition. The Pakistani contingent was not given visa clearances by the Indian government. They will not be part of the championship," said Table Tennis Federation of India (TTFI) president PC Chaturvedi.
In the Asian Cycling Championships held in New Delhi in March, Pakistani riders had a difficult time getting visas from the Indian authorities, which even forced some of the cyclists to miss the competition.
- 'Touring India will not benefit Pakistan cricket'
The relations between the two neighbour countries have suffered since the beheading of Indian soldiers by the Pakistan army at the Line of Control in January this year.
Photograph: Rob Carr/Getty Images