India's Harmeet Desai went down against Tristan Floreof France in the Under 21 Men's Singles final at the $3.5 million ITTF World Tour Qatar Open in Doha.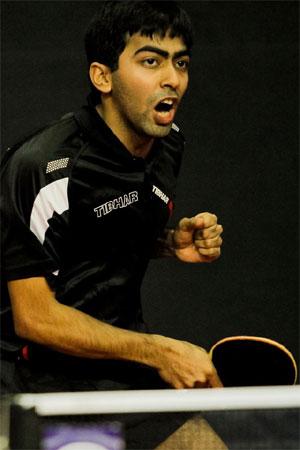 In a contest between two players who went through the qualification stages of the competition, Tristan Flore downed Desai in straight sets of 11-9, 11-5, 11-8, 11-4 in the summit clash on Saturday.
The good form of Desai deserted him in the crucial final where he was meeting the French for the first time in his career.
The Indian struggled against his rival who began cautiously to wrap the first game with minimum points. Having sized up his opponent in good measure, Flore was up to the task in the second as he went on a rampage to dispose of Desai quickly.
Probably, the second game helped Flore gain in confidence as he shut down Desai when the Indian netted one at a crucial juncture.
The Frenchman did not waste time in the fourth game as he simply pounded winners after winners to romp home with the title and a big prize purse.
Desai, however, earned handsomely for his effort even as he admitted to having committing several unforced errors during the final.
"I employed the same strategy as I did against my opponent in the semi-final. But Flore was too good on the day," Desai said.
Photograph: Facebook