Aaron Peirsol broke his 200 metres backstroke world record and Amanda Beard regained hers in the breaststroke at the U.S. Olympic Trials on Monday.
Peirsol clocked one minute 54.74 seconds, more than half a second under his previous mark of 1:55.15, set in March 2002, on the sixth night of competition at the trials.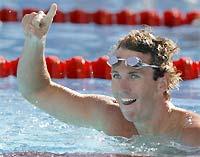 "This really means a lot to me. The 200 back record is like my baby. I want to take care of it," Peirsol said.
In one of the most eagerly anticipated contests of the trials, Peirsol and rival Michael Phelps took the race out hard, both turning at 100 metres under world record pace.
Peirsol led all the way, lengthening his lead on each
of the four laps.
"My strategy was to stay ahead of Michael in the first 100 (metres), then pull away. That's what I did," Peirsol said.
Phelps, who improved his 400 metres medley world record on the first day of the trials on Wednesday, finished second in 1:55.86.
Beard recaptured her world record for the 200 metres breaststroke, clocking 2:22.44 to smash the global standard of 2:22.96 set just two days ago by Australia's Leisel Jones in Brisbane.
Jones had broken the previous mark of 2:22.99 that Beard shared with China's Qi Hui.
Beard was under world record pace at the 100-metre mark, though she was only in third place. By 150 metres she was clearly in command, turning half a second under Jones' pace.