Swansea City defender Alan Tate has broken his leg after a "bizarre golfing accident", the Premier League newcomers said on Sunday.
"The club's vice captain was a passenger in a golf buggy that lost control at a local golf club on Sunday afternoon and he caught his leg against a tree," a statement said.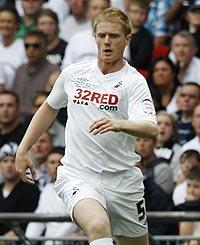 He could now be ruled out for six months.
Footballers have suffered an array of strange injuries over the years with Spain goalkeeper Santiago Canizares missing the 2002 World Cup after a piece of glass from a smashed shave bottle severed his foot tendon.
Several players have injured themselves reaching for the television remote control.