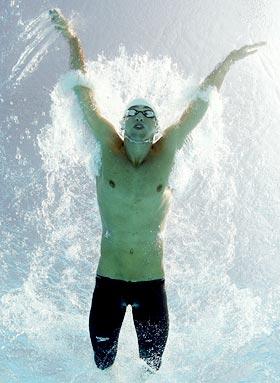 American Michael Phelps should stay out of international competition until swimming's governing body FINA sorts out the chaos over swimsuits, his coach Bob Bowman said on Tuesday.
FINA has agreed to ban performance-enhancing polyurethane suits next year after a glut of world records but said the new rules may not come into effect until April or May.
"He might do some local meets, but as far as trying to do anything during this [time] frame on this level, I think he'll be waiting," Bowman said.
"Enough is enough. I mean, come on."
He added: "This move to do it in April is unacceptable. It needs to happen January 1 if not next Monday."
Bowman said Phelps, who won a record eight Olympic gold medals last year and has sparked an upsurge of interest in the sport, has agreed "things should happen sooner rather than later".
Phelps was beaten in the 200 metre freestyle final at the world championships on Tuesday by Germany's Peter Biedermann, who broke Phelps's world record wearing an all-polyurethane suit.
Phelps helped the US 4x100 relay team to gold on Sunday and will swim in Wednesday's 200 butterfly final and the 100 butterfly heats later in the week.
Asked about staying out of future competitions, Phelps told a news conference he would abide by FINA's rules but Bowman made the decisions about where he would compete.
The new suits "have changed the sport completely. Now, it's not swimming. Now, the headlines are about who's wearing what suit," he said.
"FINA are going to make the decision, I can't make it for them. I'm going to finish the meet here and get ready for next year and for the London Olympic Games in 2012."
Australian head coach Alan Thomson said swimming has gone through a radical change in suits in a short period of time and would now go back to suits of mid-1990s design.
"As coaches, I think we need to know where we're going and swimmers need to know where they're going and not make these constant changes," he told reporters.
Photograph: Reuters