Two Indians struck gold at the recently-concluded World Junior Chess Championships in France.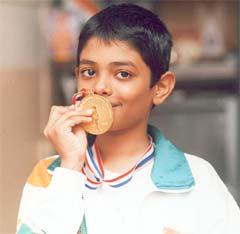 N Srinath from Chennai was one of them. He won the Under-12 category.
Only recently Super Grandmaster Viswanathan Anand had spoken highly of Srinath and Sethuraman of Tamil Nadu.
After hearing about Srinath's victory, Anand said, "I think Srinath is a stable player. He seems to slowly outmanoeuvre opponents and never takes undue risks. I attribute his victory to his steadiness."
Soon after returning from France, Srinath spoke with Contributing Special Correspondent Shobha Warrier about his experiences in the tournament.
You were not seeded to win the Under 12 World Chess championship but you surprised everyone by winning the title. What was in your mind when you went to France?
I wanted to win the tournament. Whenever I go for a tournament, only one thing is there in my mind: to win.
How do you feel when you don't win?
I feel a little upset, but then I start concentrating on the next tournament. I don't feel upset for a long time. After a while I stop thinking about the tournament.
Three years ago, when I met you, you were touted as the next big thing in chess. You and Parimarjan Negi were considered the two boys with a lot of promise, but you were not performing up to the mark while Negi went ahead of you. What went wrong?
You can't compare me with Negi because he plays only one tournament in India, the National B, and he goes to Europe and plays a lot of tournaments there. On the other hand, I don't go abroad and play.
Srinath's father Narayanan, a General Insurance employee, said, "I am a person belonging to the middle class, so it is pressure on me to arrange so much money for each tournament. As we are working with very limited resources I can't afford to send him abroad for all tournaments. Any international tournament outside India will costs a minimum of Rs.1 lakh (100,000) for one person. He also needs coaching from a Grandmaster as it will help him improve his game tremendously. I just hope that with this medal he will get some sponsors."
So you feel Negi has benefited from the exposure he had outside India?
Yes, of course. When you play in Europe, you get to play many GMs, while in Asia there are only a few Indians and Chinese who are good at chess. Negi got to play against better players but I didn't get such a chance.
You wish you also had that opportunity?
Of course, every chess player would like to have such an opportunity.
Did you feel bad when he surged ahead of you?
No, I was confident of catching up with him one day. Both of us have the same style but he is a bit more solid and positional than me. I like to attack all the time. I don't play positionally much; but, then, almost all the players of my age group are like that.
Now my aim is to play more solid. Even [Alexey] Shirov was like me earlier.
Back to the Under-12 championship. When did you realise you had a chance of winning the title?
It was my age group and I felt I had a chance. But I was not playing up to my potential. In the previous World championship, in Dubai, I played badly and had only five-and-half points out of nine.
After I beat Negi, who was the top seed, in the sixth game my confidence increased. Actually, that game was not a good one at all. Both of us played badly. I made a blunder and then he made two very bad moves which I could capitalise on, and I won.
What was the turning point of the championship?
It was my win against Sanan [Sjugirov] of Russia. He was in the lead until then with 6/6 points, and I was five-and-half out of six. So when I beat him I went into sole lead.
About that game: he surprised me with his opening and I took a lot of time to respond. But I could equalise the move. He was slightly better in the beginning but he played one bad move which I capitalised on, and he lost the game.
After the game, were you very happy to become the sole leader?
I was happy, but the tournament was not over yet. I had only a half point edge over Sanan.
Then you won against P. Sethuraman…
Yes. I had a cold and throat infection that day. I waited for him to make a mistake and I won the game. I played a more solid game that day. As I was in the lead I didn't want to lose that edge; I decided to play a bit more carefully. He played aggressively and I knew he would make a mistake, and he made one.
Which was your best game in the entire tournament?
It was against Kavaliou of Belarus. He was rated 2027 and better than me, but that day I played my best game. It was in the sixth round. He went wrong in the opening itself. I won the game in 49 moves.
But you lost the last game and your title depended on the result of Sanan-Ray Robson game...
It was a bit of a disappointment. I was a bit relaxed because I was in sole lead. Sanan was playing on the second table, and if he had won he would have got the title. My game got over fast, but the Sanan-Robson match went on for six hours. They made more than 300 moves. I was so tense then because my title depended on that game. That was the last and the longest game of the tournament.
The game was displayed on the demo board only for four-and-a-half hours. After that I had no idea what the position was. It was not on the Internet also. I was in the tournament hall, which was like an indoor stadium. We were not allowed to enter the area where the game was going on. But I wanted to know the result so badly that I entered four or five times when nobody was around. The last time when I entered, the game was in such a position that I knew it would end in a draw. I knew that only a miracle would help Sanan win. But I was very confident that it would end in a draw. 
When they announced you were the champion how did you celebrate?
I was happy; that's all! I was very excited inside and I showed my feelings for a second; after that I was back to normal. I am not a very excitable person. I was happy because as a world champion I will get to play online games. Then we took photos with the Indian team. There was a parade before the presentation ceremony.
Then all the world champions played against Anatoly Karpov simultaneously. He won three and drew seven. I was one of the players who drew with Karpov. 
How was it playing against Karpov?
It was simply great. I was very delighted. I wanted to draw with him and definitely did not want to lose the game. Luckily, it was a draw. As the prize distribution ceremony was near we agreed for a draw. There was no time to play for more than half an hour.
Did you enjoy the great reception given to you when you reached Delhi with the medal?
In Chennai, only, I was given a very good reception. In Delhi they concentrated on Sahaj Grover because he was there. I had to board a flight to Chennai immediately.
In Chennai I was given a great reception. I did not expect my schoolteachers to be there. I only expected somebody from the chess federation. I was extremely happy to see my teachers at the airport.
What are your future plans?
I am going to play National B in Delhi next. I want to improve my Elo points from 2084 to at least 2150.
Recently Anand commented that you and Sethuraman are the most talented and promising chess players from Chennai. How did it feel to hear such a comment from Anand?
That's very special, because not everybody can get such a compliment from a person like Anand. I feel extremely happy.
I want to play more tournaments outside India so that my game improves. You get to play a lot of GMs if you play outside India. I also would like to migrate to Europe like Anand and play a lot of tournaments there.
Who is your idol in chess?
Though I want to be like Bobby Fischer, my idol is Anand, because he is India's first Grandmaster and a great player. Only because of him has chess become so popular in India.
Photograph: Sreeram Selvaraj